If you enjoy this site, please check out mamster's new weblog, Roots and Grubs.
Back to the Mango
by Matthew Amster-Burton
February 20, 2002
Note: There will be a bit more about this trip later, but I've put off posting this for so long that I really wanted to put up what I have. Hope you enjoy it.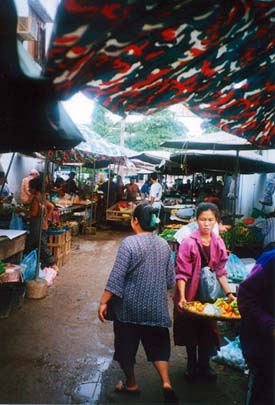 Outside the Morning Market in Vientiane, breakfast is served
Breakfast in Laos
Breakfast may be my favorite meal in Asia, just because at home I never have the time or energy to make the sort of wonderful things that are available here on the street for a quarter.
In Bangkok we usually start off with free bacon and eggs at the hotel, but our room in Vientiane included no such perk. So we took to the dusty streets and wound up outside the bustling morning market. Actually, it's bustling by Vientiane standards, which means it's like a suburban mall on Monday morning and miles from the wholesale hysteria of Bangkok's Chatuchak market.
The market doesn't sell food, but vendors just outside the grounds do, and a woman making tiny summer rolls caught my eye. She spread rice flour batter on a griddle, then covered it to steam the skins. Each skin was spread onto a work surface (a banana leaf, actually), topped with minced pork and herbs, and rolled up. I bought a dozen, which she placed on a china plate with some slices of tofu and began to mix a dipping sauce.
Into a dish went fish sauce, ground peanuts, and a squeeze of lime. She asked, by pointing, whether I wanted minced chiles, and I must have nodded vigorously, because the sauce came out quite spicy. I took a pair of chopsticks and sat at a nearby table with the rest of my party, who were already engrossed in pineapple-lime fruit shakes. The summer rolls were fifty cents (which, thanks to hyperinflation, is 5000 Lao kip), and I supplemented them with a few sesame-studded doughnuts.
A lot of eating to do, at the food station
Hua Lamphong Food Station
92/1 Sukhumwit 34
The Food Station is named after Bangkok's Hua Lamphong Train Station (nowhere nearby), because the restaurant wants to be a destination for food as Hua Lamphong is for trains. This seems a worthwhile goal right up until they tell you that your 6:15 phad thai is running a half-hour late.
The restaurant is on Sukhumwit 34, but the best way to get there is to go down soi 26 and turn left at the Taurus Brewery. We, however, got off the Skytrain at Thong Lo and walked right down soi 34, noticing only after several blocks that the restaurant address was at 92 but we had only made it as far as 30.
It's an interesting neighborhood, though, consisting mostly of diplomatic estates. We passed the New Zealand ambassador's prominently labeled home. We vowed to stop in if we passed the US or Mexican ambassador's houses and invite them to lunch. (It turns out the US ambassador lives on Wireless Road, but by the time we went by a week later, his house was surrounded by armed guards who didn't look hungry.)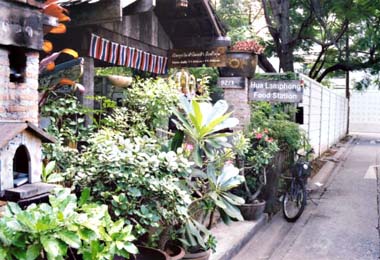 Your iced tea is ready for departure. (Photo: Adela Santana)
Fortunately, the house numbers skipped from 30 to 70 and we came upon the food station, a three-level open barnlike structure across from a walled estate. We were taken aback by the lack of air conditioning, but an array of fans blew cool air across colorful banners as we sat down with iced drinks.
The Thai waiter glut springs eternal; the restaurant was completely empty but there were three young women working. When they weren't actively serving our table they sat around a makeshift stage, lightly tapping conga drums.
Few establishments offer the range of seating possibilities that HLFS does. There's a balcony level, the main dining area, an air-conditioned private room, and a floor seating area complete with Thai pyramidal pillows.
We relaxed in the main room, sipping the refreshing lime tea, sweet iced tea with lime juice. They also serve a brilliant Thai iced coffee.
And the food? Awesome. The menu (mostly northern and northeastern Thai) stretches on for pages, and it's full of surprises, such as "termite mushrooms", which figure in a tangy Lao-style stir-fry with field crab. Unlike the mushrooms enjoyed (unintentionally) by some of us in a Luang Prabang restaurant, these had no psychoactive effect.
The standout dish was a stir-fry of prefried pla beuk (Giant Mekong Catfish) with vegetables, lemongrass, and fresh green peppercorns, which are a rare treat totally unavailable outside tropical Asia. They have the taste of black pepper but are chewy with vegetal overtones.
Three dishes
More food
The road to Hualamphong
The stage
Try the omelette
More shots from Hualamphong Food station (click photo for larger version)
We'd been ordering som tam all over town, and HLFS's is a winner. This northeastern green papaya salad is available in Thai or Lao style (the Lao has pickled field crab) and here arrives with plenty of tart, spicy dressing.
On the table you get an artful arrangement of four dipping sauces, from standard nam pla prik to a thick and sweet nam jaew, and one with lime juice that reminded me of Vietnamese nuoc cham.
Laab gai was among the best I've ever had, due to a heavy hand with the rice powder; HLFS seems to roast its powder longer and grind it finer, and this makes a world of difference. Gaeng hangleh, a Burmese-style pork curry, was a bit fatty but tender and spicy.
We wanted to go back to the food station for dinner and enjoy a meal amid sparkling lights and a crowd of diplomats. On our last night in Bangkok, we did. Except for the diplomats.
Getting to the restaurant a second time was an even greater ordeal. It was at the tail end of a thunderstorm and the small sois on the way to HLFS were under a foot of water. We hailed cabs on the gridlocked Sukhumwit and it took 20 minutes to go the half-mile to the restaurant. We could hear the water sloshing against the floor of the cab as we inched through the deluge.
It was worth the risk. The food station was open and while it wasn't exactly bustling, there were a couple of Thai families and a small music combo on the stage. The band consisted of a couple of men playing a variety of traditional instruments (including some bizarre pan-pipe-like woodwinds) and a woman who sang and played even more instruments. The conga player was Everydrummer, bearded and gregarious.
We had some hot tea and that amazing iced lime tea and the rain tumbled off the roof. Our delightful servers (who, like last time, spoke no English) kept us well-fed on gai yang and more laap (this time with bits of chicken liver minced in).
I ordered a plate of sai ua, northern-style sausage, and it came sliced on a tray with cabbage leaves, peanuts, bits of ginger, and chiles. The sausage was half-dry, chewy, and garlicky. Thai cooks are masters of sausage. Thai cooks are masters of the universe.
There was a bowl of gaeng pa, jungle curry made without coconut milk. Like gaeng som (sour curry), gaeng pa falls somewhere near the middle of the soup-curry continuum. This one had bits of chicken which turned out to be mostly bone. They were flavoring, it turned out, which was fine since we had plenty of chicken in the form of gai yang.
And I wasn't about to leave town without having some more of that giant catfish stir-fry. It's a remarkably firm-fleshed fish that stands up to strong flavors like chile and cilantro. The giant catfish (pla beuk) is a Thai success story. It was on the verge of extinction when a government program developed a way to farm it. Now I can eat it at the food station for three bucks with a clean conscience.
While no one would confuse Hua Lamphong Food Station with a place like Lespinasse or even Thanying, it's still one of the world's best restaurants. It took an hour and a half for them to get us a cab after dinner; I would have waited days.
Corrections and addenda; an indispensable book
A bit of what I reported last year is wrong or deserves elaboration. The dipping sauce nam jaew served with the grilled chicken at Sara-Jane's is thickened with tamarind, not rice powder. Those clanking popsicles are known as náam khãeng kòt. We still didn't see the popsicles anywhere other than Chatuchak market. Water is not always free at restaurants; be sure to ask, because it can end up costing as much as a dollar per bottle.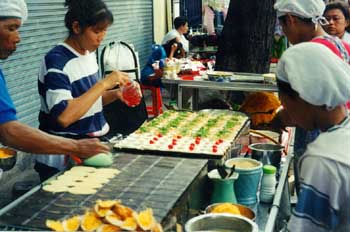 khanom buang
by the dozens, including the weird maraschino cherry version. (Photo: Dan Shiovitz)
We solved the mystery of the Taco Lady. She was making khanom buang. This quintessential street food, which does look a lot like tacos (see the photo), is made from a rice flour batter spread carefully into ovals on a griddle, then topped with a thin sheen of coconut cream. The most popular fillings are golden threads (a form of preserved cooked egg yolks) and scallions or shallots. These are generally referred to as "the sweet one" and "the salty one," and they are, although even the sweet one isn't very sweet. Thais tend to eat some of each for a snack, and since a bag of ten costs about a quarter, there's no reason not to try them both. The salty one is more of an acquired taste, if only because Thais like much saltier food than the average westerner. The khanom buang vendors in the photo set up a couple blocks from our hotel at the intersection of Ratchadamnoen Klang and Dinso. The sweet one is in front, the salty on in the rear, and in between you can see a custom version made with maraschino cherries.
Where did we learn about khanom buang? In a most remarkable book called Thai Hawker Food, which is available for about $5 at gift shops or Asia Books locations (I can't find a mail order source, but it's only useful in Thailand anyway; reading it in Seattle makes me homesick for Bangkok). The book is written by a couple of students who have an appropriate level of obsession with Thai street food, and it includes color drawings of their wares. It includes maps of the most vendor-laden areas of Bangkok and a list of dishes with Thai script so you can confirm with a vendor that you're really buying what you expect (not that it matters much--it's hard to get a bad meal on the street)
A word from Michael Babcock and Kasma Loha-unchit
Kasma Loha-unchit, author of Dancing Shrimp and It Rains Fishes, has done more to make Thai cooking approachable to American home cooks than any other author. She and her husband, Michael Babcock, kindly took the time to offer background and corrections to some of the material that appears on this site.
From: Michael Babcock 
To: Matthew Amster-Burton
Subject: Of Crepes & Noodles
Matthew,
>but I did figure out about the tacos (khanom
>buang, right?) and have some other corrections from last year. I'd be
>happy to hear her take on any of my content.
Kasma said they're called Kanom Buang Thai, to distinguish them from the
larger yellow crispy crepes of Vietnamese origin - Kanom Buuang Yuan, made
also by some street vendors and available on the menus of many Bangkok
restaurants serving classic Thai or royal cuisine (these Thai-style ones
stuffed with a minced mixture of shredded coconut, roasted peanuts, shrimp,
salted radish and fried tofu and served with bean sprouts and a sweet
cucumber relish, are usually better than the Vietnamese crepes I've had, at
least to my biased taste buds).
As for the smaller kanom buang thai, the white filling is not coconut cream
but meringue -- egg whites and sugar. The stringy bright yellow filling is
not shredded mango but extruded duck egg yolks cooked in syrup, and the deep
orange filling is a mixture of shredded coconut cooked with minced shrimp or
ground dried shrimp and colored with orange food coloring (in the past the
orange color came from the rich orange butter in the heads of fresh water
prawns). Like many Thai sweet snacks and desserts made with eggs, the origin
of this particular snack can be traced to the influence of Marie Guimar, the
half-Japanese, half-Portuguese wife of a Greek minister (Constantine
Phaulkon) to the Siamese royal court in the 18th (??) century. Marie worked
her way to the position of head of the royal kitchen and introduced the use
of eggs in making desserts and other sweets.
It's Kasma's guess that you didn't encounter satay as often as you thought
you did. Satay almost always is done with a yellow marinade (with curry
powder) and inevitably served with sweet peanut sauce and cucumber relish.
Most of the darker-colored pork grilled on skewers are actually "moo bping",
which has a soy sauce-based marinade, giving the meat a brown color; moo
bping, which usually are wider and larger strips of pork than the narrower
yellow skewered satay, is served with sticky rice and a hot vinegar-based
chilli dipping sauce.
The other clarification concerns noodles. Rahd nah is actually made with the
wide rice noodles called "sen yai" (literally, "wide strand)    and not with
the yellow wheat-based ba mee egg noodles. Pad Thai is most commonly made
with "sen lek" (literally, "small" or "skinny strand";    it's sometimes also
called "sen chan") and occasionally with the more wiry sen mee (same    as the
Chinese meifun or mifun; like angel-hair pasta) -- both are rice noodles. It
is seldom made with "woon sen", which is the clear glassy noodles    made from
mung beans, and rarely a choice found on noodle carts. Incidentally, the
word kuaytiaw means rice noodles, so both ba mee and woon sen are not
technically kuaytiaw.
Kasma says that when she orders Pad Thai it is usually pretty spicy. She
speculates that the vendors tone it down for fahrangs. Incidentally the
chillies in nahm bplah prik are not pounded; they simply are cut in thin
rounds and soaked in fish sauce. A more common way for Thais to add heat to
pad thai at the table is to sprinkle ground roasted chillies over the
noodles. It's also a staple condiment found on the tables.
Our favorite drink (more refreshing to my taste buds than naam awy) is
coconut -- either young coconut (maprao awn) or roasted coconut (maprao
pao). In fact, when you suffer from heat stroke in the tropics, drinking
lots of cold young coconut juice is a quick way to recover.
Kasma says that it is perhaps not fair to compare street food with
restaurant food - it's like comparing oranges with apples. On the streets is
where one finds ethnic foods, as a great number of street vendors are of
ethnic Chinese, Vietnamese, Laotian, Mon, etc. backgrounds, so their foods
reflect their cultural heritage, perhaps fused with the taste preferences of
their customers in their adopted country. In other words, a lot of it is
Thai-style fusion food and much of it really cannot be considered true Thai
cuisine.
Incidentally, one of our favorite restaurants in all of Thailand is My
Choice, at 5 Sukhumvit 36, Bangkok 10110. Everything is excellent. We had
perhaps the best Green Curry we'd ever had there last trip (although the
second time it was merely excellent). I'd be happy to pass on some of our
favorites (it's a long list).
Michael