If you enjoy this site, please check out mamster's new weblog, Roots and Grubs.
Sichuan Surpasses Citrus
by Matthew Amster-Burton
December 14, 2002

What's left to say in a cookbook review introduction? I tried to tie everything together with a bit about the Slow Food movement, but it was the epitome of hack. So, the succinct approach.
Many books this year, some bad, some good. Growing sophistication of the Western palate. Asian influences. Fast Food Nation. Atkins. Comfort food. Organics. Brining. Microplane 4 ever.
Can we skip right to the top five?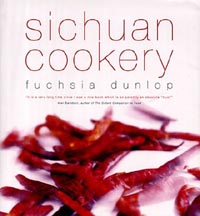 Sichuan Cookery / Land of Plenty
Fuchsia Dunlop
UK: 296 pages, £20
US: 256 pages, $30 (June 2003)
For a while there, England was the bastion of conservative book design, equal parts readable and dull. But the country has long since shrugged off its avuncular past and sent over a raft of brilliant but hard-to-read cookbooks to torture me. One of these evil missives is Sichuan Cookery, the best book of the year.

Before I explain why you absolutely must own this ugly book, let's say the author's name together: Fuchsia Dunlop. Now say it with an English accent (maybe you already were). Fun, isn't it?

Sichuanese cooking at Chinese-American restaurants (and very few Chinese-Americans are from Sichuan province) rarely does more than hint at greatness. With its liberal doses of chiles and sichuan peppercorns, mediocre Sichuan is certainly better than mediocre Cantonese, which is why New York's Empire Szechuan is an empire despite its being no more Szechuan than I am. But beyond cold noodles with sesame sauce (bad versions of this are worse than death), kung pao chicken, and mapo tofu, who can even name another Szechuan dish? "Spicy Szechuan Prawns/Chicken/Beef/Octopus" is as far as you get on the typical menu, and in the right hands all of these things can be good, but isn't there a story behind the story? What do people in Sichuan province actually eat?

Leave it to Fuchsia Dunlop to do what no writer in English ever has before: deliver a thorough investigation of Sichuanese cuisine. And while I am sure someone else has written a book with this much pork fat in it (Emeril, maybe), this one makes me want to cook. Cook obscenely porky things. (Okay, I already wanted to do that, but now I can blame it on Fuchsia Dunlop.)

That's how I found myself braising a pound of pork belly one night. Long before braised pork belly became a cause célèbre among chefs célèbres, Sichuanese people and Fuchsia Dunlop were cutting it into chunks and braising it in stock flavored with soy sauce, sugar, and star anise. "Bear in mind that the meat is very rich, so you won't want to eat it with anything too oily." She ain't kidding. This is a recipe from a place where "lean" is an insult.

The pork loses some fat to the sauce, but not so much that you can pretend you're not eating chunks of pork fat. Americans don't eat this sort of thing any more, but this dish is no richer in fat or cholesterol than a bowl of Ben & Jerry's. That's what I told myself as I mixed a few juicy pork cubes with my rice. Red-braised pork is cheap and easy to make (pork belly is available at Asian groceries), perfect for mid-December, not quite payday, when you want something that feels luxurious. I'm not sure you could get away with feeding it to your friends, however.

Now, dry-fried string beans, that's a dish for company. Homemade, it's as good as the best Chinese restaurant version, and Dunlop also offers a variation: substitute shredded bitter melon for the string beans. Unless you're one of those freaky supertasters, you're going to love this gloriously bitter concoction. With pork.

Sichuan peppercorns are currently banned for import to the United States because of fears that they will bring along a citrus parasite, although you can find the peppercorns on eBay. Screw the oranges—we need these peppercorns, because Sichuan cookery is the new thing.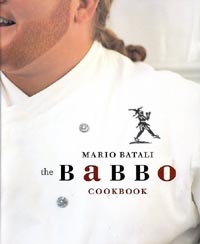 The Babbo Cookbook
Mario Batali
335 pages, $40
It's a received truth among food people that Babbo, Mario Batali's West Village Italian headquarters, is one of the best Italian restaurants in the country, but my one meal there wasn't amazing. What I remember above all else is the waiter saying at every turn, "The chef recommends." As in, "The chef recommends freshly grated Parmigiano-Reggiano on that," or, "The chef recommends letting that cool slightly before eating." If it hadn't been so funny, the customer would have recommended that the chef get over himself, already.

Given that Batali's first book, Simple Italian Food, was a mess—bad design, ludicrously complicated recipes—it would have been no surprise if Babbo were another loser. But it's a mix of luscious photos, recipes you can actually make at home, and informal then unexpectedly beautiful writing.

Fish is at the heart of this book, and Batali knows how to spin variations on a simple theme: a seared slab of fish atop a salad, topped with a sauce, dressing or both. One of these has become a staple of my table, a showstopping company dinner that takes minutes to prepare: Planked King Salmon with Cucumbers and Balsamic Vinegar. I usually use sockeye, and I don't have a plank, so I sear the fish on the flesh side in a skillet, flip it, and put it in a hot oven to crisp up the skin. (A version of the full recipe appears in a story on cookbooks that I did for the Seattle Times.) "Italians do not cook their fish on a wood plank," Batali admits, "but American Indians in the Pacific Northwest have done so for centuries, as has Larry Forgione." In another headnote he observes that "Halibut is very meaty on the palate, so in creating its condiment we like to get jiggy with strong flavors," in this case roasted artichokes and a tomato-anchovy vinaigrette.

Fish, vegetable, acidic dressing: you could cook this way for weeks without having to weigh anchor. My only complaint is an unfair one: I have to figure out substitutes for Batali's east coast fish species.

The meat and poultry recipes are less approachable; nobody is going to hunt down a calf's tongue and a capon, then make four condiments for the bollito misto. Instead, turn to the pastas. Black Pepper Tagliatelle with Parsnips and Pancetta is simple and superb, especially if you use a sweet-cured pancetta such as the one available from Batali's dad Armandino at his Seattle salumeria. Rigatoni with Five Lilies answers the question: what happens if you throw every member of the garlic family (which are botanically lilies, and there are six in the recipe) in with your pasta? It's not gilding the—um, it's good.

This was a real surprise: a glossy book by a chef, but one with powerful lessons for the home cook.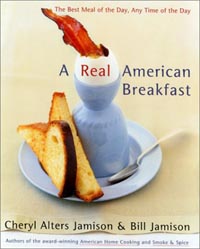 A Real American Breakfast
Cheryl Alters Jamison and Bill Jamison
454 pages, $34.95
Bet you a jug of maple syrup that one of your favorite family dinners growing up was "breakfast for dinner." If you're a parent, you probably make it regularly. And why not? Nobody cooks before work or school, and most people don't feel like eating all that much when they first get up. But who wouldn't admit to a hankering for pancakes, waffles, French toast, sausage, bacon, and orange juice?

That's why Jamison and Jamison subtitled their book The Best Meal of the Day, Any Time of Day. The Jamisons are American food historians, and here they serve up breakfasts from almost every era and ethnic group. Wherever hash is slung, a Jamison is there to catch it.

In fact, there's a whole chapter on hash, and while you probably don't have any leftover cooked potatoes around, it's worth generating some to remind yourself how good homemade corned beef hash is. The Jamisons' recipe is as rich as a Rockefeller, and with a friend's homemade corned beef, it was the best hash I've ever eaten. If corned beef sounds too traditional, there are recipes for chicken-wild rice hash, shrimp and pork hash, and Derby Day Turkey Hash with Corn Batty Cakes.

Sidebars feature breakfast menus from long-gone restaurants and quote from early American cookbooks. At Haddon Hall in Atlantic City, 1899, you could order Pettijohns, Vitos Wheat Food, Germea, or fried mush. Whyever did they stop making Germea?

The photos are close to perfect: they show off the food rather than the photographer. That doesn't mean they were easy to shoot; I imagine it was not easy to make a photo of salmon hash look so delicious.

This book has enough breakfast or breakfast-for-dinner ideas to keep you going until the kids move out. Which may be sooner than you expect, if you serve them things like artichoke-goat cheese strata.
Glorious French Food
James Peterson
742 pages, $45
Before my time, I'm told, there was no surer way to impress your guests than to serve up a multicourse French meal, probably culled from the pages of Julia Child. Nowadays, that impressive dinner is more likely to be Thai or Northern Italian, and French classics would be greeted with a laugh. "Duck à l'orange, how quaint and old-fashioned!" your guests would sneer.

Sure, certain dishes live on—crème brûlée is the most obvious—and French restaurants still stake out the high end in major cities. Maybe this is because of French food's reputation for being rich and unhealthy, but I think it's more a matter of fashion. Traditional French food is uncool for the same reason that the leisure suit is uncool: it had its day and people have moved on to something else.

Despite my overall lack of fashion sense (my approach has been described as, "He wears what's on top of the pile"), I'm as much of a slave to trends in taste as anyone. Until this year, there were exactly two France-related books on my cookbook shelf. One, Waverley Root's The Food of France, has no recipes; the other, Paris in a Basket is a colorful travel guide to the markets of Paris, with a few recipes thrown in as an afterthought. And I can count on one hand the number of times I've made French food for dinner: beef bourgignon twice, coq au vin (badly) once.

Still, though, a cookbook collection needs something French, if only for nostalgia's sake. Julia Child is too 20th century (though the Julie-Julia Project might disagree); shopping is different now, better. I wanted an encyclopedia of traditional French recipes, in English, by someone with a good understanding of the ingredients available to a 21st-century American cook. Someone who rebelled against his classical training even while absorbing every lesson.

Glorious French Food is the book I was waiting for. It's all in here: cassoulet, ratatouille, pâtés and terrines, stodgy desserts like îles flottantes. The book is divided into fifty chapters, each introducing a core recipe or technique and then improvising (but not too much) on the theme.

French food may not deserve its reputation for heaviness, but this book does: it's a brick at 8.5x11 and 750 thick pages. It's unclear why the large format, since there are no illustrations, although there are two sections of Peterson's excellent color photos. Warning: the cover of this book has a gigantic photo of the author. I had to take the dust jacket off, and he's still staring at me from across the room.

Peterson is the master of the sidebar. You can flip through Glorious French Food and find advice on buying a stockpot, using leftover celery (freeze it), and curing your own ham.

I may never cure my own ham (although we do have a walk-in refrigerator at my lab), but the idea of spending all day making a duck terrine is oddly appealing. What I want most of all, though, after reading this book, is to be invited to James Peterson's house for dinner. The bastard can cook anything.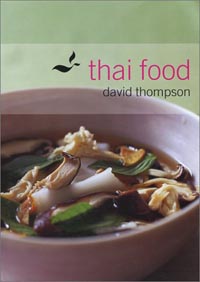 Thai Food
David Thompson
674 pages, $40
It happens to a lot of people. They take a trip to Thailand and return home unable to stop thinking about Thai food. They want to cook and eat that way all the time.

That, I gather, was the fate of Australian chef David Thompson, who ran two popular Thai restaurants in Sydney before moving to London and opening the controversial, Michelin-starred Nahm. Londoners argue over whether it's a warm breeze from the East or Anglicized Asian by way of Australia. I've never been, but I have read Thompson's new book, Thai Food, which is also controversial in that I can't decide whether I like it. What is undisputed is that there has been no more thorough Thai cookbook published in English.

Let's start with the bad. The format of this book is intolerable. The paper is thick and glossy, making the whole thing weigh over five pounds, and yet it still feels like it's going to fall apart. For some reason, the designer has made the paragraph indents enormous, an affectation that never gets easier to read. And the book was first published in England and has not been modified at all for the American edition, meaning it calls for European measurements (with American ones secondary) and European fish. Some of the photos are quite appetizing, such as the massaman curry of chicken on page 330, but most are artistically blurred. Yuck.

It's hard to stay mad at Thai Food, though, because Thompson is serious and uncompromising about illuminating a huge cross-section of the food people in Thailand actually eat. There is a section on nahm prik, spicy dips for raw or cooked vegetables, a whole delicious category that never makes it into Thai-American restaurants. The curry chapter is a marvel, with a different homemade paste for every curry. And these are unusual recipes—we're not talking "green curry chicken," but Minced Rabbit Curry, Steamed Guinea Fowl Curry with Roasted Rice and Apple Eggplants, and Curry of Ash Melon. If you made a dozen of these curries and put them out on a table, your table would look a lot like Bangkok, plus I would come to your house and refuse to leave.

As you've no doubt guessed from the curries, these are from-scratch recipes that will not inspire weekday meals, although there is a nice straight-ahead phad thai recipe.

This should not be your first book on Thai food. Stick with Kasma Loha-unchit for that. But if you're a serious student of one of the world's most delicious cuisines, you have to have Thai Food.
Honorable Mentions
Nancy Silverton's Sandwich Book. This is not a book about how to fix yourself a Dagwood before the game. It's about the kind of serious, planned-out "meals on bread" served at Campanile, Silverton's restaurant, plus a few simple ones like cremini mushrooms "embossed" into bread with the help of a panini grill. In fact, if you can read this book and not covet a panini grill, you must already have one.
Appetite (Nigel Slater). This is a nice collection of non-recipes from the dean of down-home English cooking. The UK edition sports a perfectly good cover photo of greasy sausages, which the puritanical American editors changed to soup.
Vegetables From Amaranth to Zucchini (Elizabeth Schneider). This book actually came out at the end of last year and sat around on my shelf for a while before I noticed that it's an incredibly valuable reference to unusual vegetables, all with color specimen photos, recipes, and chef recommendations. Essential.
It Must've Been Something I Ate (Jeffrey Steingarten). Not a cookbook, but if you enjoyed Steingarten's first collection, The Man Who Ate Everything, well, you probably already have this. If you haven't read Steingarten before, get on the stick.
The Cheese Plate (Max McCalman). The author is the maître fromager at Artisanal, a cheese-oriented restaurant in New York. When we had lunch there, Laurie had a grilled cheese sandwich with Montgomery farmhouse cheddar, Nueske's bacon, and granny smith apples. The Cheese Plate is an enthusiastic and clearly written introduction to the world of cheese, but it's not as good as that sandwich, because nothing is.
The Zuni Cafe Cookbook (Judy Rodgers). The key draw here for me was an incredible-sounding sandwich of bacon and greens on gougères. Others may be lured in by the famous Zuni roast chicken. But there are also a lot of recipes that read like Steven Shaw's stereotypical gourmet recipe (featured in his braising article): "Put bread and cheese on plate. Serve with fruit, wine and a green salad (optional). Preparation time: Eleven seconds." That cover photo? It's a recipe.