If you enjoy this site, please check out mamster's new weblog, Roots and Grubs.
I see London (and Cornwall)
January 13, 2001
by Matthew Amster-Burton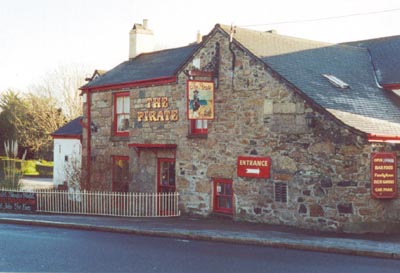 "Barbara says that she is planning to cook pasties for you on Thursday evening," read the email from Laurie's Cornish cousin Roger, "so make sure that you are hungry when you arrive, they usually hang over the edge of the plate." I knew we were on our way to a good place.
We didn't see any actual pirates in Penzance, as far as I know, but we did see an ship that had run aground, and it came complete with a rumor that the captain had done it for the insurance money. That's roguish enough, right? There's a pub here called The Pirate and a restaurant called Smuggler's (which, due to the liquor laws, is billed as Smuggler's Fully Licensed Restaurant. The "0" is his license to smuggle). Also, this has nothing to do with pirates or food, but the slogan of the local paper is: "Go ahead, grab a Cornishman!"
There are two Cornish dishes known beyond the county's borders. One is star-gazy pie, a specialty of the town of Mousehole ("Mowzel") in which various whole fish are baked in a pastry crust with their heads protruding from the top of the pie. We didn't try this, nor, did it seem, had most Cornish people we spoke to.

The other Cornish specialty, however, is the pasty, a meat and potato turnover that resembles certain empanadas and piroshkies. "Pasty" rhymes with "nasty," which they are not, and not with "tasty," which they are. The traditional filling is sliced potato, hand-cubed chuck or skirt steak, onion, and sometimes turnip. I read that what the rest of England calls "swedes" Cornwall calls turnips, but then I saw at a produce stand a pile of "turnips" that I'm sure were what Americans would call rutabagas, and I think that's what we were eating in our pasties. The pastry crust may be fatted with lard, shortening, margarine, or a combination; though butter is slathered on in Cornwall with the same abandon you'll find in the rest of England, it never seems to be mentioned in the context of pasty dough. Nigella Lawson says this is because you don't want the whiff of expensive butter in your workingman's pie.
There are surely a dozen pasty shops in Penzance alone, and all of them look reasonably good (we tried three). At the shops you can choose from a vast array of fillings, including chicken curry, steak and ale, lamb and mint, beef and stilton, bacon and egg, and various vegetable and veg-and-cheese combinations (including, at long last, at least one with corn). The standard pasty tends to come in several sizes; at one shop these were whimsically labeled "miner," "haymaker," and a small one "for the cheel."
Although there are no unusual ingredients in a pasty, the aroma is unmistakable, and passing a pasty-equipped pedestrian can induce a powerful craving, even if you've just eaten a pasty or two yourself. It is the apotheosis of meat and potatoes.
For £2.50 I bought The Pasty Book, a pamphlet on pasty history and craft by Hettie Merrick. Unless you're lucky enough to be served a pasty by a Cornishwoman in her home, this book is probably the best place to become acquainted with them (pasties, not Cornishwomen). Merrick strikes the right balance between patriotism, skepticism, and appetite. I'm not sure what they'd charge for overseas postage, but the address is:
Tor Mark Press
United Downs Industrial Estate
St. Day, Redruth, Cornwall TR16 5HY
UK
Available from the same publisher: What (shall-we-do-with-the) Smuggled Brandy?
NOTE 6/24/01: Merrick's daughter Ann Muller runs a pasty shop in the Lizard (a town in Cornwall, honest) and on her website you can print an order form to buy Merrick's books.
Awaiting the Aussie invasion
London continues to be one of the world's greatest places to eat if you have the net worth of General Electric.  We had passable Turkish food in Covent Garden, a tasty masala dosa near Tottenham Court Road, and briny som tam in Shepherd's Bush, but it remains impossible for two to escape from even a pedestrian London eatery for much less than $40 before drinks.
One way to save a few pounds is to eat outside the center, and to this end we had a tasty Pan-Asian meal at Lemon Grass in Camden Town (243 Royal College St).  We shared an unusual fried leek cake, crispy and chewy and full of minced leeks, and a bowl of spicy, salty mushrooms.  Our mains were tangy Cambodian-style shrimp and chicken in a lemongrass-based sauce.  It all tasted terribly fresh, service was friendly, and everything else on the menu sounded good, especially the soups.
Our best meal, however, was at Patara (Beauchamp place, Knightsbridge), the Thai restaurant that two years ago served me the kind of phad thai that leaves you wandering the city streets in a delighted stupor, crying out plaudits to the great Thai chefs of history.  The phad thai is still wonderful, but the crispy fried fish with tamarind sauce is even better.  Chicken satay was remarkably tender but still tasted of the grill.  Patara's room is beautiful;  it's the only place I've ever been outside Thailand that reminds me of a fine Bangkok restaurant, and indeed, unlike many upscale Thai spots, Patara is liberal with the chiles and fish sauce.  Set lunch of one appetizer and one main course (many choices of each) is £11.25 including service.
After lunch we wandered stuporously up Brompton Road to Harrods, the legendary department store.  Some come to London for the National Gallery;  I go to gawk at the Harrods food halls, four rooms comprising the most opulent spread this side of Babette's Feast.  It's a bit manicured and too much of the food tucked away in cases, but nowhere have I seen a more beautiful display of bacon, back or streaky, smoked or unsmoked, rind on or off; the rashers were stacked neatly by hand.  Overall, it was like the exact opposite of the pandemonic Chatuchak market in Bangkok.
The prices at Harrods are ludicrous, of course, and it's full of gawkers like me, so I wondered who does any actual shopping at the food halls, which do have a bakery and produce section.  I guess some people do all their shopping at Harrods, period.  They could certainly do worse than the musical instrument department, where they had a harpsichord with hand-painted interior (a sign indicated that Harrods could supply a player for your soirees) and a Bösendorfer piano with legs shaped like the Chrysler building and styled like a classic car under the piano's, um,  bonnet.  At today's favorable exchange rate, only $210,000.
One of the great pleasures of travel is shopping at the local supermarket.  The Tesco in Covent Garden didn't disappoint.  English groceries have a remarkable selection of prepackaged prepared foods, everything from bubble and squeak to Thai red curry chicken (and not "Thai":  this contained actual shrimp paste).  If you're familiar with Kettle Chips, you'll be delighted to know that there's a European line that includes flavors like Mature Cheddar and Burgundy, Salt and Malt Vinegar, and Rosemary and Garlic.  I tried the first two and was not disappointed (my favorite flavor in the US line is Habanero-Ginger, which can be hard to find but quite worth it).
With all the great cooking being done in London, the time is right for a great cookbook store, and Books for Cooks (Blenheim Crescent, just off Portobello Road in Notting Hill) is one of the best.  It's a small storefront, but they manage to cram in not only a fine selection of new books (including a large  Australian section, on which more in a moment), but a kitchen where they serve lunch to a few lucky people each day.  The meals are chosen from new cookbooks and prepared by the bookstore staff.  Does anyone know of such a place in the US, and if so, can you please send me a job application?
If the food press and the bookstore shelves are any guide, English home cooking is becoming more Australian, by which I mean that barbies are ablaze from Brighton to York!  No shrimp is safe!  Actually, I mean that Asian techniques and ingredients are in vogue and the cooking is fresher and lighter.  Every Australian cookbook I picked up, from Stephanie Alexander's to Terry Durack's gastrotourist journal Yum, was full of things I'd like to make, and moreover reflected a philosophy of home cooking based on regular marketing and intelligent borrowing of foreign influences.  The new English books, by the likes of Nigel Slater and Jamie Oliver (a cockney git who is younger than me and has just published a second cookbook based on his hit TV series, The Naked Chef), are like this as well.
And to drink?
It was probably the tenth cup of PG Tips that got me thinking about comparative beverage sociology.  In France we drank wine with every meal and coffee afterwards;  in England little wine, just tea.  Partly this was because of the type of food we were eating.  It's silly to argue, as people do, over wine matches for Thai food, as if to go a whole meal without wine would herald the end of viticulture.  Have a beer, or, god forbid, water.
Laurie doesn't drink wine and I don't drink coffee, but in France we each did what we don't do and enjoyed every swallow.  French food (which in its present form is only a couple centuries old) was invented by jittery and tipsy people, but perhaps more to the point, modern Paris was built by the same people, and when you step out at night into the sparkling streets with a buzz on from various beverages, it just feels right.  Plenty of wine is drunk in England, sure, but it still feels like something grafted onto an existing culture. London is twice the size of Paris and has more than twice the bustle, and I at least would rather feel more on my toes.
My assessment would probably be vehemently snorted at by the collection of elderly Irishmen I observed drinking pints at 11am in a Notting Hill pub.  One man approached the bar and asked for an empty glass.  He decanted his half-empty pint into the other glass to get additional foam.  "That's quite a head ye've got on yer pint," the bartender said.
"Quite a head on me shoulders, too," the man replied.
Or as we say, con queso
We visited two cheese shops of note.  One, Paxton and Whitfield, is the oldest such establishment in London.  They have a nicely displayed array of the cheeses of the world, including a Cornish on called Yarg.  (Say it again with me:  Yarrrrrg.)  Prince Charles buys his cheese here, and he also sells his wonderful organic shortbread, crispy and buttery.  I can't explain it, but the best shortbread seems to have a slightly fermented flavor.  Laurie tells me shortbread can be aged, and perhaps the milk solids sour slightly.  Come to think of it, the Prince is looking slightly fermented himself.
For years I've enjoyed the offerings of Neal's Yard Dairy, a charitable organization which scours the British countryside for traditionally made cheeses, mostly raw-milk, and packages them for export under their brand name.  At home we get their Montgomery Cheddar, firm, white, and sharp;  and their Appleby's Cheshire, semi-firm, orange, with occasional blue streaks of mold.
Neal's Yard also maintains a shop in Covent Garden, and it's neither on Neal Street nor in Neal's Yard, but you can easily find it by smell.  It's one of the most beautiful food stores I've ever seen, yet inviting and with a working-class air.  The cheeses, all from the British isles except for an exemplary wheel of Parmigiano, share a common sense of purpose.  If cheese can tell a story, this is the pageant of Britain in fermented form:  its cheddars, gloucesters, caerphillys.  I was offered a taste of white Lancashire and had to buy a chunk (£2 worth fed four), along with a tasty package of oaty digestive biscuits.  Neal's Yard also sells artisan-made butters and clotted cream.
Xport for expats
Those who don't get turned on by studying the tube map can leave off here.
Since my last visit to Europe, London and Paris each have new subway lines on offer.  London's entry, the Jubilee Line Extension, connects the West End with the Docklands.  It was delayed by reputed sabotage and other headaches but now seems to be running smoothly.  The rolling stock seems to be the same as the current Central Line trains, colorful and highly automated, but on the Jubilee Line the trains accelerate with a futuristic zooming noise that, since the Central Line makes no such noise, I can only assume was put in just to impress straphangers.
Speaking of straps, both the London and Paris undergrounds include a feature missing in New York: fold-down seats near the doors, or strapontins, as they're called in French.  Please heed the signs posted in the Métro: En cas d'affluence, ne pas utiliser les strapontins.  Otherwise, they're quite handy.
The real draw on the Jubilee are the new stations, designed in full-on Blade Runner style by some of London's leading architects.  The Waterloo station is especially successful, a multilevel composition of brushed aluminum tiles and punched metal stairs that seems to change shape as you ascend.  It feels like a movie set, but I suspect it will age well.  It would be cool, though, if they had done just one station in a completely different style, such as Lord-of-the-Manor, with Oriental rugs on the floor and transport workers in smoking jackets.  In fact, it would be even better if you were issued a smoking jacket as you stepped off the train.  Sure, London Transport is supposed to be doing some belt-tightening, but I don't see why the belt can't be a leather number with a silverplate buckle.
Paris's new line, the Méteor or métro 14, runs from Place de la Madeleine to the new Bibliothèque François Mittérand, a hugely ugly construction built to replace Labrouste's aging fortress.  Modern Europe doesn't seem to have a new Labrouste on offer anywhere;  the new British Library is also a monstrosity.
But the Méteor is a thing of beauty.  Sleek, shiny, speedy, a smooth ride, everything you could ask for in a train.  The front windows are the underground equivalent of the upper front windows on a London double-decker bus, an eye to the world, only here you can pretend it is a seamy world of underground tunnel dwellers.