If you enjoy this site, please check out mamster's new weblog, Roots and Grubs.
You Want the Soup
June 20, 2000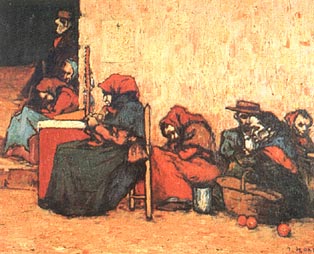 Waiting for Soup, by Isidre Nonell (1899)
Growing up in New England, I came to appreciate the wonderful sense of warmth and fulfillment that a bowl of good soup eaten as a meal can offer on a cold winter's day. I'm not talking about your Cambell's "Mmm... Mmm... Good" Chicken Noodle here, or some stringy fried noodles sitting in a pool of chicken flavored MSG. I'm talking about an honest to goodness homemade meal, one where you wouldn't even think to ask, "Hey, do I get a sandwich with this?" I am also not talking stews here. I have nothing against a good hearty stew, it is just a discussion for another day. I'm talking about soup: the broth is required. The broth is an essential element in two of the most important things that make for a good soup experience.
First, soup has to be served hot. Waves of steam should rise up from the bowl and bathe your face with warmth and aroma as you sit over it ready to dig in. I've heard that there are some soups out there that are meant to be eaten chilled. I say, damn the Gazpacho. Now, when you are sitting over your bowl of piping hot soup you have to be careful; don't rush to slurp down that first spoonful and burn your tongue. Luckily, there is a solution to this problem that doesn't involve sitting around waiting for your soup to get cold, and it just happens to be the second element in a satisfying soup meal: you've got to eat it with fresh bread for dunking, and please don't just float a handful of crackers in it. Crackers don't belong in soup. The exception is clam chowder, and while we are on the subject of clam chowder let me recommend that next time you have a cup try adding a dash of Tabasco sauce to it for a little kick.
Anyway, returning to our hot soup problem, the fresh bread provides us with the ideal way to enjoy the soup while it cools to a manageable temperature. Simply rip off a chunk of bread, dip it halfway into your broth (see, I told you it was important), and enjoy.
My single favorite place to eat soup outside my house is at The Loaf and Ladle, a small pub and restaurant in downtown Exeter, New Hampshire, that specializes in serving soup and sandwiches to the luncheon crowd. All I can say is don't bother with the sandwich. You get two pieces of their homemade bread with any bowl of soup, and trust me, it is more than enough to satisfy. They always have a selection of eight to ten different soups, and they always seem to have something fascinating that I have never tried before. Some of my favorites are the potato pesto (I get the anadama bread to dunk in this wonderfully-textured soup); the tortilla soup, which looks like a big steaming bowl of chips and salsa but turns out to be a wonderful tomato based soup with just a hint of spiciness; and the borscht. Normally you could not get me to eat beets at gunpoint, but I gobbled down this vegetarian version with delight. There were large chunks of beets, turnip, cabbage, potatoes and onions in a surprisingly clear but flavorful broth.
Of course, the totality of one's soup experience should not be eating it at restaurants. Making your own soup at home is a Zen-like exercise. Sure, you usually have a list of ingredients, but you can't actually worry about the exact quantities, the order, and the timing. You chop some stuff up, throw it in a big pot, and wait. You stir once in a while, throw in a dash of seasoning, a little pepper, a little salt (not too much! the single worst sin a soup can commit is to be too salty), but mostly you wait for the telltale aroma that the miscellaneous pile of stuff has bonded together to become a complete meal in a bowl.
Here are some of my favorites to make at home.
John Morganti's Chicken Noodle Soup With a Twist
1/4 bag wide egg noodles
1 lb chicken breast
a handful of red bliss potatoes
several carrots
several stalks celery
black pepper
bacon
thai seasoning
a handful of chopped parsley (a handful, chopped)
a couple cups chicken broth
Slice up the carrots, potatoes, and celery. Dump them in a pot with the chicken broth and set it on medium high heat. Once it boils, turn it down and let it cook for 20 minutes. Meanwhile, fry the whole chicken breasts in a pan with some bacon. Remove chicken from pan and cube it up. Ditch the bacon (you can eat it now, just don't throw it in the soup). Put the chicken and parsley in the pot. Season to taste with black pepper and Thai seasoning (John says at least a couple of teaspoons). Let simmer for several minutes then toss in the egg noodles and cook for an additional 5 minutes.
My Mom's Sausage Tortellini Soup
1-1/2 lbs sausage
1 cup chopped onion
2 cloves garlic minced
5 cups beef broth
1/2 cup water
2 cups crushed tomatoes
1 cup thinly sliced carrots
1/2 teaspoon basil
1/2 teaspoon oregano
1-1/2 cups thinly sliced zucchini
2 cups cheese tortellini
3 tablespoons fresh chopped parsley
grated Parmesan cheese
In a fry pan, brown the sausage and drain the fat. Add the onion and garlic and saute. Move all this to a big pot and add everything but the vegetables, tortellini and cheese. Cover and simmer several hours. Skim any fat off. Add the vegetables and tortellini and simmer until they are tender. Sprinkle with grated Parmesan when you serve it.

Lenny Pitts has spent every one of his 29 winters in New England, all but the first in New Hampshire. He is a hopeless Red Sox fan.