If you enjoy this site, please check out mamster's new weblog, Roots and Grubs.
Taking It to the Street
by Matthew Amster-Burton
July 15, 2000
Finding good food in Bangkok, it turns out, is much like eating in New York: the most upscale and most downscale food sources are the ones to watch. Certainly there are marvelous midrange places, but like the $13 entree restaurants in America, they are hit and miss, and in addition, here they are difficult to navigate without a better working knowledge of Thai than mine.
Fortunately, it's impossible to pay as much as $13 for an entree anywhere in Thailand and street vendors are everywhere. On our first night, we checked into our hotel at 10pm and wandered out onto Thanon Charoen Krung in search of a snack. ("Thanon" is Thai for "road".) We wound up at a stand outside Bangkok's main post office where we were served more stir-fried chicken with vegetables (phad phak ruam gai) and rice than we could eat. It was the perfect meal after 24 hours of travel.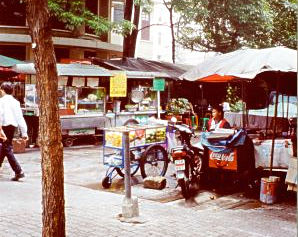 Typical Thai street vendors
Street vendors here offer a staggering array of snacks, sweets, and whole meals, including many foods I was unable to identify. It is always worth flagging down a fruit cart for pineapple, mango, or papaya. The pineapple here is bright orange and sweet. The vendor puts a large piece into a plastic bag, then holds the bag in one hand and with the other gives it a few Lizzie Borden-style whacks with a dull knife, severing the fruit into manageable pieces without tearing the bag. With the fruit you can request, as most Thais do, a small bag of salt, sugar, and crushed chile for dipping (the chile is a great accompaniment but the salt more of an acquired taste). This will run you 10 baht, or 25 cents.
No American Thai restaurant that I know of offers meatballs, but Thai street vendors certainly do. A typical meatball vendor will serve up several choices of meat and marinade, threaded on a stick kebab-style and grilled. Next door, at another cart, a woman grills green banana halves until they are firm and smoky or deep-fries breaded banana slices.
One day on our way to lunch, I saw a woman expertly pounding out somtam (green papaya salad), and had to stop for a bag. Somtam is a salad of slivered green papaya (largely tasteless but crunchy and eager to soak up the dressing), dried chiles, palm sugar, lime juice, dried shrimp, nam pla, and optional tomato, green beans, and field crab (a black land crab that looks and crunches like a tarantula). Beginning with the liquids, dried shrimp, and chiles, this is pounded in a large mortar and pestle made especially for the purpose. The heat of the chiles and the flavor of the dried shrimp is thus released and it all coalesces into a crunchy, salty masterpiece that would be for sale on American streetcorners if we lived on the just and kind planet that humanity deserves.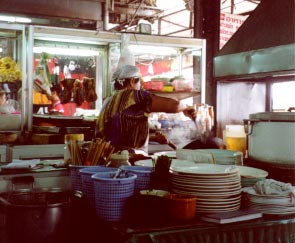 Making phad thai at Chatuchak Weekend Market
Of course, I came to Thailand with visions of phad thai, and Thailand did not disappoint. You can tell a noodle vendor by the bags of noodles (kuaytiaw) in three sizes (wide ba mee egg noodles for rard nah, sen mee and woon sen for phad thai and similar preparations) nestled in the windows of the cart, and you can tell a good one by the legions of people waiting in line and sitting at tables nearby. The going rate for phad thai is 30B. The noodles are thin, usually pale white, and never greasy. Phad thai is served with a big plate of bean sprouts, basil leaves, and scallions. It arrives only lightly spiced, but naam plaa phrik (fish sauce pounded with fresh chiles) is always on the table. Most phad thai comes with shrimp (fresh, dried, or both) but I had a fantastic chicken phad thai at Chatuchak Market, about which more later.
Another ubiquitous street vendor offering is Indonesian-style satay, usually pork. Our most memorable satay we bought outside the huge temple Wat Po. We selected a skewer of grilled pork and were about to walk off, when the vendor called, "Wait, sticky rice," and squeezed us a good-sized lump of rice from a bag she'd been holding. The rice can be flattened into a disc between your fingers and used to pull pieces of meat off the stick without dirtying your hands or face. It's also delicious in its own right and can be used to pick up other foods as well, including the essential northeastern Thai/Laotian meat salad larb.
The most popular drink in Bangkok is water, and we went through half a dozen liter bottles a day. The runner-up is probably Singha beer. But nothing quenches thirst better on a hot and sticky Bangkok day than a bag of cold naam awy—freshly squeezed sugar cane juice, which is slightly orange and has a complex and only mildly sweet caramel flavor.
The typical Thai breakfast is rice porridge, but vendors offered plenty of atypical selections as well. One woman whose cart stood near the Democracy Monument on Thanon Ratchadamnoen Klang was pouring perfect silver-dollar, and smaller (1 baht?) pancakes onto a griddle. And one of the most beloved foods in Bangkok is ice cream. McDonald's offers a standard soft serve cone for 7B and Baskin-Robbins fights back with its "Teen Scoop", but the street vendors really get weird, piling three scoops of vanilla onto a hot dog bun and topping it with corn kernels or red bean paste. McDonalds, I should add, offers its pies in three flavors: pineapple, taro, and corn.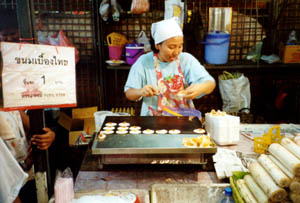 The Taco Lady, Chatuchak Weekend Market
Bangkok's new high-speed SkyTrain speeds through town well above the choking diesel fumes and will deposit you for a minimal fee at Chatuchak Weekend Market, which is vendor nirvana. There's plenty of designer clothing (bootleg and legit) here, as well as a brisk market in endangered species, but obviously the real draw for me were the legions of food stalls, serving delicacies even more varied and unusual than what you get all over town. We visited the Taco Lady at least twice. She wasn't actually selling tacos, but I have no better name for what she was making. She spread a paper-thin, two-inch circle of batter onto a griddle, topped that with some thick coconut cream and a few shreds of mango. When it had warmed through and the batter crisped up, she folded it like a taco shell and sold it for one baht. Light orange and dark orange mango fillings were available, but we couldn't tell the difference.
Also for 1B, we had refreshing popsicles, flavored with various tropical fruits, which were frozen in elongated silver thimbles dunked in a bucket of iced saltwater (the saltwater didn't get into the popsicles; it was just there to freeze them). The vendor would turn and shake the bucket, which bristled and clinked with shiny popsicle incubators.
In Bangkok, you will never find yourself stranded in a neighborhood with no decent or cheap food as you can so easily in New York (ever try to find a cheap bite near Lincoln Center?). We were running early to the venom-extraction show at the Snake Farm (not a joke) and I was ravenous, so we hopped around the corner onto Thanon Henri Dunant and found a woman sweating over a pot of simmering broth. She took a shoulder of pork and used her cleaver to shave a few paper-thin slices into a bowl, then boiled some noodles in the broth and garnished it with (of course) fresh herbs. It put the average Chinese restaurant noodle soup to shame, and as far as I know it contained no snake venom.

All photos: Laurie Amster-Burton