If you enjoy this site, please check out mamster's new weblog, Roots and Grubs.
Pasta for Christmas? Alert Melchior!
by Matthew Amster-Burton
December 7, 2000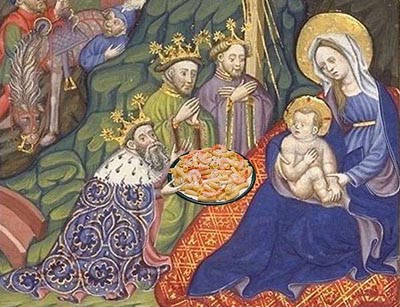 It is no longer shocking to admit that you find Christmas slightly repulsive. The ghost of Jacob Marley won't rattle his chains in your general direction if you mention that love and compassion are all well and good, but bell-ringing and the Baby Jesus drive you batty. All that has been said.
Pasta for Christmas dinner, though: that's sacrilege! Go forth and sin happily, for lo, these pastas are red and green and rich enough to give Dad a Santa-belly. The Baby Jesus can eat myrrh.
XMAS ORECCHIETTE
Serves 4
An unusual thing about this recipe is that the sauce has tomatoes in it, but it's not a tomato sauce per se.
1 lb orecchiette
1/2 cup olive oil
1/2 lb Italian sausage, crumbled
1 15-oz can diced tomatoes, drained (you can use fresh tomatoes, but not in December)
2 cloves garlic, minced
2 bunches (2 lb) broccoli rabe, woody stem bottoms trimmed off and the rest cut into 1" sections (if you can't find any broccoli rabe, substitute a slightly bitter pepper like a green poblano, diced)
Crushed red pepper flakes
Grated pecorino romano
Bring a large pot of salted water to a boil. Unlike some other pasta shapes, you can't skimp on the amount of water; use at least a gallon or the orecchiete will stick together. Add the orecchiette and stir vigorously to avoid clumping.
In a saucepan, heat the olive oil and add the garlic. Saute until golden, then add the sausage and brown. Add the tomatoes and a healthy pinch of red pepper flakes.
When the orecchiette is still a bit shy of al dente, add the broccoli rabe directly to the cooking pasta and stir. Boil about four more minutes and drain.
Mix the pasta and broccoli rabe in with the sausage and tomatoes and simmer together for one minute. Add salt if necessary Serve in heated bowls and top with pecorino.
NOTE: I am one of the world's greatest lovers...of Italian sausage, but though sausage and orecchiette are a classic combination, this dish is really just as good without, and I serve it both ways depending on the preferences of my guests and what I'm in the mood for.
BAKED XMAS PENNE
Serves 4
Adapted from Cucina Simpatica by Johanne Killeen and George Germon.
3/4 lb penne rigate
2 cups heavy cream
4 roasted red bell peppers (see below), peeled and pureed in a blender
1/2 cup canned diced tomatoes, drained
1/2 cup (loosely packed) grated pecorino romano or Parmigiano-Reggiano
1/2 cup shredded fontina
2 tbsp ricotta
1-1/2 tsp kosher salt
4 tbsp butter, cut into small chunks
1 green bell pepper, cut into slivers
Mix the cream, cheeses, salt, tomatoes, and red pepper together in a large bowl. Preheat oven to 500°F.
Boil the pasta in salted water for four minutes and drain quickly.
Toss the drained pasta into the bowl with the cream and cheeses. Divide into four shallow baking dishes (see note). Top with most of the butter, reserving a bit. Bake ten minutes.
While pasta is baking, saute the green pepper in the remaining butter. Before serving, arrange the green pepper in a fishbone pattern on the top of each dish.
NOTE 1: The easiest way to roast a pepper is to slice off the top and bottom, core it, and flatten the body of the pepper out onto a baking sheet, skin-side up, along with the top and bottom pieces. Broil until well blackened, then put in a paper bag or a bowl covered with plastic wrap for ten minutes. The peel will slide off.
NOTE 2: This will work fairly well if you just dump all the pasta in a 9x13 baking pan. But I found the ultimate baking dishes for this and other baked pastas. They're made in Lyons by Emile Henry. The specific piece is part of their Le Potier series and is a 6x9 oval, 1.5" deep, with small handles on the ends and beautiful ridged finish. They're available in several colors, including dark green, brown, blue, and natural off-white. Oven-safe up to 520°F. The only drawback is the price, about $23 each. I have no personal interest in whether you buy these; I just love mine.

Illustration: Adam Cadre with Martin of Aragon.