If you enjoy this site, please check out mamster's new weblog, Roots and Grubs.


December 18, 2000
There are good restaurants, there are great restaurants, and there are quirks and preferences that define the local food scene for you. It's easy to learn about the first two: newspaper reviews, a dog-eared copy of the Zagat, or a long Friday night line can distinguish the enticing from the health hazard. But the important stuff—what to order, when to go, where to sit—these are the domain of the long-time resident, and are the factors which differentiate "a good place to eat" from "a local classic." When I come home from a week's worth of sampling restaurants from elsewhere in the world, these are the places I want to go as soon as I unpack.
In no particular order:
1. Camptown Shrimp at the Border Café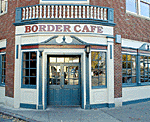 David Dyte so loved the Camptown Shrimp he once ordered this appetizer along with an entrée prepared with the exact same sauce. He doesn't recommend this overdose but he does still recommend the Camptown Shrimp, as do I. The rest of the menu is split between Tex-Mex and Cajun, and while the Cajun dishes are more original (all things blackened), I've never met a Border dish I didn't like. The restaurant can command absurd lines on warm weekend nights, so pop by at a non-traditional hour. Entrée prices range from an unBoston $5 up to $15, so you'll have plenty to choose from after your sublime shrimp experience.
2. Seductive rice at The Helmand
There are a million reasons to visit Boston's only upscale Afghani restaurant. One of them is that you're stuck near the Cambridgeside Gallery mall and have no desire to dine at Houlihan's. Another is that you're taking someone to a romantic dinner by fireplace and would prefer to avoid snooty French waiters and overpriced cream sauces. By far the best reason, though, is to have some rice. While every dish at The Helmand is delicious and beautifully presented, it's the side order of rice that gets me every time. Afghani rice ("challow") is baked with spices and would be a meal in its own right. Ask for more, and then take home a doggie bag. If you've also got leftover kaddo borawni (pumpkin with a yogurt-garlic sauce) or their signature rack of lamb, that will accompany the rice nicely. The Helmand also has a location in San Francisco.
3. Lunch at Pandan Leaf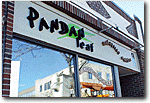 The first time I went to this Brookline Malaysian eatery I ordered the red snapper. For $13, I got a red snapper. That's it. A whole fish, onna plate. No rice, no side dish, but plenty of head, tail and fins. This annoyed me, so I didn't go back.
But lunch! Lunch runs until a civilized 3pm on weekends, and the place was nearly empty. I ordered soup and an entrée for a total of around $10. Malaysian food is similar to Thai but fruitier and more delicate, with mango and pineapple living alongside the spice. Mmm... mango.
4. Saturday Night Fever at Pho Republique
If you're going to operate a restaurant in the South End, in the deep South End, like Washington St.-South-End, you need a reason for people to venture down to where there's no parking, no public transportation, and no well-lit or even remotely safe streets. Pho Republique opened its stylish South End location after its comparatively hovel-like Central Square site "accidentally" burned down. Instead of recreating the Southeast Asian wall-o-bamboo look of the original, the owners executed a radical 180 degree turn, and not in the stuffier direction of other high-end Asian eateries (such as Pho Pasteur's newer locations, Jae's, Blue Ginger). Pho Republique, instead, is funky, as in fresh, with a multicolored bar staffed by spiky-haired bartenders and a high-ceilinged dining area with fearsome decor. Prices are high, but there's no reason to hit the clubs afterward as the phat-beatz soundtrack and beautiful patrons make this a one-stop shop. As for the food, they offer traditional pho with non-traditional ingredients. Pumpkin was a good idea but wasn't porous enough to absorb the broth—infused with star anise, lime, and ginger, it requires meat or tofu to really shine.
5. Cheese plate at Atasca
I have always harbored the suspicion that there is a relationship between the quality of a foreign food and the distance between the restaurant and the cuisine's home country. By that logic, the quality of food from next-door-neighbor Portugal (breezily discounting 3,000 miles of Atlantic Ocean) should be nothing short of Lisbonic. Atasca, now with a new, larger Kendall Square location, suggests I'm right. Feel free to order anything on the inviting and reasonably-priced menu, but you must, I say MUST have the Queijo Fresco com Tomates. A soft but robustly-flavored white cheese with the consistency of fresh mozzarella, it comes drizzled with olive oil and garlic vinaigrette alongside bitingly-fresh tomatoes and onions. It's possible to have a full tapas-style meal with only the appetizers: smoky stewed fava beans, spicy poached mussels, and delicately sliced Portuguese home-cured ham are just a few. For the complete experience, try the entrees as well: traditional salt cod, fish stews, and a half a dozen pork, chicken and even steak dishes. Sadly, it's less vegetarian-friendly than Spanish restaurants, but then, you can always order more cheese.
6. Brunch

There's no better way to flaunt four hundred years of Puritan work ethic than to roll out of bed on a Sunday afternoon and stagger to an array of delicious food prepared by someone else. At Tremont 647, you can even do it in your pajamas. Like any meal at this South End hot spot, brunch will set you back a bit, but the food was some of the best I've ever had regardless of the hour of the day. And your pretentious waiter will be hard to take seriously in his stripey PJs with stocking feet.
If you can't eat just one, put on some damn pants and go north to the all-you-can-eat, reservation-only brunchathon at Cambridge's The Blue Room. Don't fear the reservation requirement—they have only a few seatings and lots of willing patrons, but calling ahead the day before is usually sufficient. Unlike most buffets, each dish is entrée-quality, and the breakfast food is non-traditional. From delicious lentil salads to smoked salmon, grilled lamb, veggie quesadillas, startlingly good corn grits and fried plantains, and even some token buttermilk pancakes, this is the one place I insist on bringing visitors. $16 prix-fix with coffee or tea included, which is plenty fair even for vegans and a bargain for omnivores. They also serve a full bar, but avoid the Bloody Marys unless your favored method of preparation is to pour tomato juice into a pepper mill and serve it in a glass. Yuck.
7. Hey batter, batter at Kebab-N-Kurry
There is nothing spectacular about Kebab-N-Kurry, least of all the dumb name, but it is perhaps the highest quality traditional North Indian cuisine in the city. It's located in a charming basement-level dining room just south of the Mass Ave. bridge. When I used to live in the neighborhood, the nine thousand-year-old owner would recognize us and seat us with a tremendous smile. I've never had a better dal makhani or baingan bharta, and I've seen people collapse from the heat of their chicken vindaloo, but the real winner has got to be jeer alu, if only because the menu describes it as, "A battle of spices with potatoes in a pond of yogurt, with you appointed as umpire." When in Harvard Square, visit their sister restaurant, Bombay Club. At both locations, the prices are mid-range but the quality is top-notch.
8. Dessert at Finale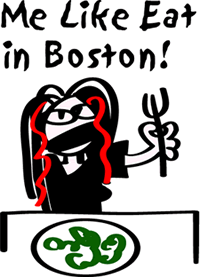 Finale relieves the burden of ordering an expensive dessert at an upscale, downtown restaurant by providing an enormous menu of expensive desserts at their own locale. If you're splurging, skip the cappuccino and tiramisu at Legal Seafood and stagger across the street to Finale for a mind-blowing Citrus Fruit Tart or Milk Chocolate Teardrop. To wash down these pastry triumphs, Finale offers a dozen coffee beverages of various strengths, but if you're fond of the fermented grape, forgo the bean and try a dessert wine. They have the color and sweetness of mead but are infinitely more complex and don't have that cloying, syrupy quality.
9. Hurling insults at Haymarket
Each Friday and Saturday morning, there are rows of people waiting to insult you in exchange for absurd quantities of produce. There is no better place to shop for fruits, vegetables, meats and seafood at 1905 prices than Haymarket, where you will wade through decaying fruit crates to find the perfect five pounds of mushrooms for a dollar. And I mean a dollar—present one of the stand owners with a $20 yuppie foodstamp and you'll be wearing that sack of potatoes. Don't forget to pick up the crate of strawberries for two bucks on your way out.
10. Deli Haus
This diner/bar/heavy metal listening booth would be less remarkable if Boston had more late-night-bites, but Deli Haus' 3am closing time has virtually secured it as the place to go after all other entertainment options have been exhausted. They have a surprisingly good beer list at reasonable prices and offer traditional diner fixings like cholesterol-stocked omelets, unidentifiable chicken bits with gravy, and all things fried. Locals connoisseurs gravitate towards the signature items—the "Velvet Elvis" sandwich, the vegetarian reuben, or the Guinness float, to name a few. But the Deli Haus experience has always been more cultural than culinary: hit the place late, admire the local art, and don't be surprised if your waiter sits down with you before taking your order. If you want to keep the memories alive, you can even buy a t-shirt.

Liza Daly, mgs's Boston Commissar, is the former drummer for Sadie Hawkins.