If you enjoy this site, please check out mamster's new weblog, Roots and Grubs.
Broadway Renaissance
by Matthew Amster-Burton
November 21, 2000
In his book about American urbanism and suburbanism, Home From Nowhere, James Howard Kunstler mentions Broadway, in Seattle's Capitol Hill district, as a rare example of an American neighborhood that does street life right. I couldn't agree more. The ten-block stretch of Broadway from Union St. to Roy is one of the most vibrant 24-hour eating, shopping, and living communities this side of Greenwich Village. It is also my home.
Two years ago, however, the restaurant situation on Broadway was dire. Siam on Broadway springs eternal, and Pagliacci always serves up a reliable slice, but the rest was mostly embarrassing. Bagel Stop was driven out by the inferior Noah's. The Deluxe, an inviting neighborhood bar and grill, served a decent hamburger but soggy fries.
It is always darkest just before dessert. In the past two years, Broadway has emerged from its dark age into a diverse tableau of restaurants that I'd be proud to put up against your street any day. Starting from the north (because that's where my house is), here are the newcomers.
Deluxe Bar and Grill
625 Broadway E
The Deluxe has occupied this corner, next to the Harvard Exit movie theater, since the 50s. It's listed here because just over a year ago it underwent a renovation of its premises and its menu. It faltered along for a while, but now cheap burger Wednesdays ($4.79) are back, and after at least a half-dozen failed experiments, they're finally serving a worthwhile french fry, crunchy and with a hint of garlic. The fish and chips are also delicious.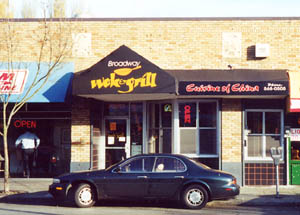 About time.
Broadway Wok & Grill
614 Broadway E
Ever since we first moved to Broadway in January of 1996 I have bemoaned the lack of a Chinese restaurant on Broadway. Until now the choices have been steam-table chow mein at Safeway or Magic Dragon, or Jade Pagoda, which is more a seedy bar than a restaurant.
Then along came a branch of Fremont's Wok & Grill, occupying the old Kitto noodle house. (I had been missing Kitto's ramen, but not anymore, as you'll see.) The name suggests poorly executed Chinese-American cliches, but the restaurant is so much better than that. The standbys are available, sure, but they're better than you remember them, and Wok & Grill is profligate in its use of fresh vegetables.
Chicken with hot garlic sauce comes with shreds of green and red peppers, carrots, bamboo shoots, and other vegetables I'm forgetting. Mu shu pork is perfect, crunchy and properly balanced between meat and veg. They run regular specials. One day it was cubes of tofu stuffed with chopped shrimp and steamed. Subtle and delicious.
The menu is not very adventurous, and it veers into some Southeast Asian dishes that I haven't bothered to try. After all, Siam is next door. But this is the kind of no-nonsense fresh Chinese food I'd been missing since we left New York, and now it's here.
Despite its many charms, Wok & Grill is sitting empty too much of the time. I think I can explain this. The restaurant sits between a Chinese place (Jade Pagoda) and a Thai place (Siam). They're never going to beat Siam on Thai food, so they should drop panang curry and phad thai from their menu. In their place, they should offer some more unusual and traditional Chinese dishes (maybe concentrate on seafood?) to better set themselves apart from Jade Pagoda.
Every Chinese restaurant in New York knows that to stay in business, they have to have a lunch special loss leader. Serve people broccoli beef and egg roll for under $5 at lunch, and they'll bring their friends for dinner. Wok & Grill gets this wrong, too, charging $6.25 to $7.50 for their lunch special and throwing in nondescript soup and salad.
I desperately want this restaurant to succeed. Go, please, to Wok & Grill, bring your friends, and explain why you're not ordering the panang but would they happen to have any sliced conch with XO sauce?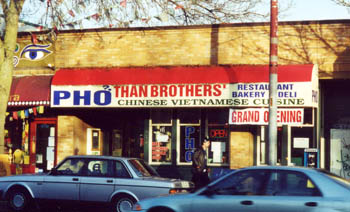 Cream puff city.
Than Brothers
516 Broadway E
It's always a treat to go to a restaurant with only one thing on the menu. The slogan "do one thing, do it well" resonates with me, whether we're talking about porterhouse at Peter Luger, fries at B. Frites, or pho at Than Brothers. Actually, Than Brothers has seventeen pho variations, plus cream puffs.
Pho, in case you live in an area unfairly deprived of Vietnamese immigrants, is the signature dish of Hanoi, a soup of beef broth, rice noodles, and whatever cuts of beef you request. On the side you get bean sprouts, hoisin sauce, sliced jalapeños.You can choose anything from brisket to meatballs to tripe, or you can go for the chicken pho (with chicken broth) or mushroom broth with tofu.
Whatever you order, it will be cheap and enormous, with a cream puff as appetizer. Why cream puffs? I assume it has something to do with the fact that Vietnam was a French colony, but Ethiopian restaurants don't serve bruschetta, so I think the brothers Than just like cream puffs. Some people push their cream puffs aside to enjoy as dessert, which makes no sense to me. A fresh cream puff has just been set down in front of you! Pay attention!
There is almost nothing better than pho on a cold winter day. The something better is...
Ezo
408 Broadway E
When Eastern chains expand into the West, they tend to bring good eating along. I've enjoyed brilliant phad thai at Patara in London and crispy tangerine prawns at Wu Liang Ye in Manhattan. Now I can walk a couple of blocks down Broadway and enjoy traditional ramen at Ezo, a Tokyo chain with outlets in Hawaii, Canada, and now Seattle.
First, though, a bit of a story. In sixth grade I accompanied my best friend on a family vacation to Hawaii. We stayed on Waikiki Beach, land of world-class surfing and sun-bronzed bathing beauties. I was miserable. My friend and I got on each other's nerves, I was homesick, and bathing beauties, surprisingly, showed no interest in a nerdy 11-year-old.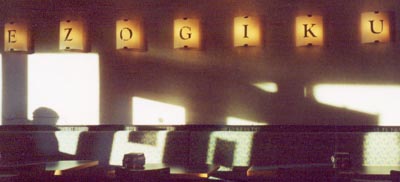 Shadowy figures slurp beautiful noodles.
When I think back on that trip now, though, all I can remember is the ramen. Every day for lunch we would go to a little hole-in-the-wall restaurant serving about ten different kinds of ramen. You could get it with miso broth or soy broth and with various additions--extra meat or vegetables or, our favorite, a few gyoza (potstickers) tossed right into the bowl. All for under $4.
No one else has invited me to Hawaii since, so I figured this would have to be a once-in-a-lifetime treat. I was delighted to be proven wrong. Ezo's ramen is just as good as I remember from Hawaii, and it's still under $4.
In addition to the miso and soy sauce ramens, they offer vegetable ramen, charsiu ramen (with extra meat), and wonton ramen. Each is available in two sizes, large and way too large. All except the vegetable come with a fish cake and a piece of roast pork floating on top. But the appetizers are as good as the ramen. I never go to Ezo without getting an order of the delightful little potato croquettes, mashed potatoes with a bit of ground pork, rolled in panko and fried. They're served with a tangy barbecue dipping sauce. I'm tempted to use the term "Potato McNuggets." Ezo also offers delicious gyoza (four for $1.35), and they don't look at you funny if you toss them into your ramen bowl.
I also love the fried noodles, with bits of pork and vegetables and a side of pink pickled ginger. Like any self-respecting inexpensive Japanese restaurant, Ezo has photos of the food on the menu. No plastic models, though. Ezo also serves chicken cutlets, grilled with teriyaki sauce ($1.75) or panko-coated, fried and served with or without curry sauce. Their liquor license should be coming through soon; until then they've covered the adult beverage section on the menu with a post-it note. I peeked. Beer is going to be a whopping $1.50. Ezo rules.
Bistro Antalya
327 Broadway E
Before there was Bistro Antalya, there was Good Deal Pizza. In the window of the sleazy Broadway Grocery convenience store you could see a couple of whole-wheat crust pies that had been sitting around for hours, giving them the translucent sheen of cheese that has been melted and left to congeal. A bad deal at any price, it's not like they were giving the stuff away--I think it was less than a quarter cheaper than Pagliacci. Somehow Good Deal Pizza hung on for years, but suddenly divine justice intervened: the convenience store is still sleazy, but Bistro Antalya is immaculate and dead serious about making you a high quality sandwich.
Antalya is a city in Turkey, and I assume it's the hometown of Bistro Antalya's amiable owner, Bulent Ertur. The rotating gyro meat device and even the panini grill were imported from Turkey. This guy is as serious about his ingredients as he his about his appliances. "This is homemade DONER (turning) kebap (without preservatives) but not GYROS of any company," reads a sign next to the stack of spiced beef and lamb. If you detected a bit of pride, you're right. He's earned it. This sandwich is going to put you off Kronos forever. As good as the meat is, the homemade bread is even better, a huge round pide (Turkish for "pita," I can only assume) studded with black sesame seeds.
When you order the doner kebap sandwich ($5.50 including tax), Ertur starts a wedge of pide grilling, then searches the meat for a perfectly browned section and slices off thin strips with his long knife. He fills the bread with meat, then a shot of his homemade herbed yogurt sauce. Next he'll add a few paprika-sprinkled onions, cabbage, lettuce, and a couple of tomato slices. Then more yogurt sauce, and finally one more slice of meat. The bread is crunchy and sour, the meat spicy and seared, and the other ingredients offer unwavering support to these key players.
Once I arrived early at Bistro Antalya and the meat needed another ten minutes on the rotisserie before slicing. Ertur gave me a free sample of his mucver (a zucchini pancake, which was frankly kind of mushy) while I waited, and assured me, "I make you a great sandwich." He did. Extra meat, light on the yogurt sauce, just the way I like it.
The doner kebap is clearly the labor of love, but you can also get a mucver sandwich, chicken salad, turkey, or veggie. All come on the same phenomenal bread.
HoneyHole Sandwiches
703 E Pike St.
Nothing revolutionary here, just good solid french-bread sandwiches, including a strong selection of hot and veggie sandwiches. Their barbecue chicken sandwich ($5.50) is my favorite, with hand-shredded chicken in a sweet tomato-based sauce, plus plenty of red onions. Like all sandwich places, they have a "buy ten, get one free" card. You won't find it difficult to finish one. The employees are nice, and they play KCMU, Seattle's best radio station.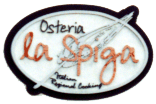 Osteria La Spiga
1401 Broadway
Last, but certainly not least, is this regional Italian restaurant, and it's out of place in so many ways. It's stuffed into the far corner of the Harvard Market, next to a hairstylist. Seattle isn't known for its Italian community, but the Italians we do have seem to gravitate here, to this place that doesn't serve spaghetti. This is the real thing.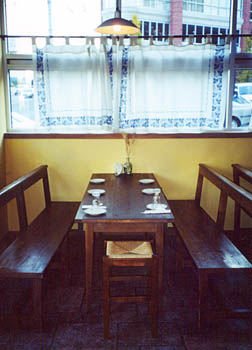 Your table is ready.
La Spiga bills itself as Emilia-Romagnan, which is my favorite food in the world, but it's really more Romagnan than Emilian. The focus is on piadina, a griddle-cooked flatbread, and fresh pastas. Sandwiches, the mainstay of the La Spiga lunch menu, come in two configurations: ingredients between two slices of piadina or stuffed inside a large piadina and called crescione. I prefer the latter--you get a better bread-to-filling ratio.
And what fillings these are. The Diavola includes hot salami and fontina. In the spring I had thin asparagus spears stuffed into a crescione. Laurie enjoyed a sandwich of olivada and caciocavallo, and probably the best one I've had was a saute of bitter greens and wild mushrooms with two cheeses, one of them gorgonzola, if I remember right. There is also a light but warming soup of passatelli (noodles made of cheese and stale bread) in meat broth.
At dinner, La Spiga transforms. The long tables fill up with patrons enjoying inexpensive, fruity Italian wine (including a fine selection of Sangiovese di Romagna) and homemade pastas like tortellini with herb and cheese or butternut squash fillings, or spinach tagliatelle with homemade ragu. If anything should tip you off that this isn't Emilian cooking, the "tortellini" are actually ravioli. Salads include a huge bowl of greens with balsamic vinegar and bits of crisped prosciutto. Last time we went to La Spiga we enjoyed a plate of four diverse pecorino cheeses, served with pears and fig relish. The sandwiches are also available at dinner, of course, and every meal comes with plenty of complimentary piadina.
Desserts include tiramisu, of course, and tartufo nero, chocolate gelato around a hazelnut truffle. On my birthday, I had the tartufo with a glass of 20-year-old tawny port, a combination which made me wonder why I haven't been drinking port with Ben & Jerry's all my life (answer: good port isn't cheap and cheap port...you get the idea).
Osteria La Spiga is not only the best restaurant on Broadway; it's one of the best restaurants in Seattle.
MIAs
So what's still missing from the gustatory paradise we call Broadway?
A sausage stand. For a brief time we had a branch of Greenlake's Diggity Dog, but their sausages weren't nearly as good as their hot dogs, whch were great. Shultzy's on the Ave is quite good, and they'd no doubt be welcomed on Broadway. What would really make my day, though, is to have a local outpost of Portland's Good Dog/Bad Dog, whose sausages (handmade at the restaurant) are the best I've ever eaten.
A nice sit-down restaurant with tablecloths and attentive service. This describes Cassis, the French bistro a mile north of Broadway on 10th Avenue East, but there's no cozy place on Broadway where you can go and know you'll be totally cared for.