If you enjoy this site, please check out mamster's new weblog, Roots and Grubs.
I8NY
by Matthew Amster-Burton
March 22, 2001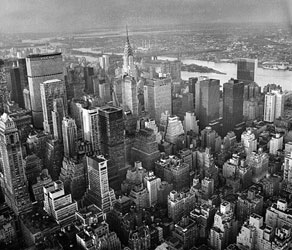 New York City represents the urban promise fulfilled and unfulfilled, but mostly it is about the freedom to eat risotto for lunch and Cambodian food for dinner, and thatís the kind of freedom I would die defending.
Like most people, I'm in favor of diversity, a principle whose importance I like to sum up with the phrase "only a Venezuelan will open a Venezuelan restaurant."† Sometimes I will recast the aphorism with a Chinese and a Chinese restaurant, depending on what I am in the mood for.† The Venezuelan restaurant is good for the Venezuelan community, and it's also good for the non-Venezuelan community in a way that transcends just having the opportunity to eat freshly-made arepas, although that would be reason enough.† On this trip I found myself wondering what white supremacists eat.† "Hey, Helmut, you want to order Chinese?" "We hate the Chinese."† "Oh, right.† Dammit."
Here are few of the diverse group of new restaurants that have opened since I was last in New York, August 1999.
Risotteria
Menu: page 1 page 2
270 Bleecker St. (near John's Pizzeria)
(212) 924-6664
This sounds like the kind of place you'd joke about opening, and in your town it would have to remain a joke, but New York has the population to support a restaurant specializing in risotto.† We tried five risotti.† It turned out three people wanted portobello, one with Italian sausage, one with green peppercorns, and one with truffle oil and fresh mozzarella.† Of these, my favorite was the green peppercorn version.† I had carnaroli rice with freshly sliced prosciutto di parma and parsley.† Best of all, however, was roast chicken, zucchini, and fontina.† I am now eager to get home and put fontina in my risotto.† Almost all the risotti are under $10, and Risotteria also sells grilled panini, which sound both wonderful and unlikely to be ordered by me unless they run out of rice.
Grand Sichuan International Midtown
9th Ave. at 50th St.
(212) 582-2288
We begin in 1998 at a reading by Vogue food columnist Jeffrey Steingarten at the Astor Place Barnes & Noble.† I, Laurie, and a young Chinese-American woman chatted up Steingarten about his favorite Chinese restaurants in New York.† The woman asked if he had tried Wu Liang Ye (one of my favorites), and Steingarten, unimpressed, asked us if we had been to Sichuan province.† We shook our heads, and he launched into a tirade about how there's no real Sichuan food in New York and the purported Sichuan peppercorns we get here are nothing like those used in China, and he knows of only one chef in New York who imported the real ones, and he wouldn't let Steingarten buy any.

I don't know if Steingarten was talking about the chef at what was then the new first outpost of Grand Sichuan International in Chinatown, but I do know that the Sichuan peppercorns at the new 9th Avenue location are categorically different from any I've had before and that if Grand Sichuan isn't the best Chinese restaurant in New York, it's good enough that I don't need a better one.† (Of course, I said the same thing about Wu Liang Ye.)

I rearranged my eating schedule to have two meals at Grand Sichuan, and was able to bring several guests each time.† So I've tried about a dozen dishes, which is probably two percent of the encyclopedic menu.† In addition to the menu itself, your table is set with a twenty-odd page treatise on Sichuan cooking and detailed explanations of each of the dishes.

Nothing we were served was less than excellent, but Grand Sichuan achieves its greatest successes with simple vegetable dishes and with chicken.† A plate of sliced Chinese broccoli was salty and addictive.† One page of the menu is devoted to fresh chicken dishes and kicks off with an explanation of why Chinese people don't order chicken at most Chinese restaurants (short answer:† because it sucks).† The auxhou chicken lived up to the hype, with a tangy brown sauce loaded with Sichuan peppercorns and intensely flavorful and chewy morsels of chicken.† I was the first to get a direct hit of peppercorns, and suddenly my mouth had gone half-numb and tingly.† It's a sensation I'd like to feel again as soon as possible.

The pedestrian-sounding shrimp with Sichuan sauce were simply the best Iíve ever had, their exteriors crisped up by a hot wok and interiors perfectly cooked.† A huge plate of sour string beans (from the "Mao's home cooking" portion of the menu) were pickled and finely diced with ground pork in strange and successful composition.† Steamed shrimp dumplings, the dim sum stalwart, arrived bathing in a shallow pool of spicy peanut sauce and had plenty of shrimp flavor.† Grand Sichuan is serious about its ingredients:† the hot oil is homemade, the bamboo shoots fresh.

But there was a dish far better than anything described above, and it came from the most intriguing corner of the menu, a handwritten page of dishes inspired by an old Chinese TV show, about a Mandarin princess, that the staff has been watching on tape.† (I know, it doesn't make any sense, but now I want to watch the show, too.)† All dishes on the princess menu are given two names, one lyrical and one prosaic.† The one we ordered was Sour and Spicy Vegetable, but its "princess name," Growing Grass in Spring Must Be Like Green and Threaded Silk, does it more justice.† And, unbelievably, the vegetable in question was celery.

The celery was slivered with a bit of fresh bamboo shoot and sliced green chile.† It was served cold, dressed with hot oil and vinegar, with a bit of ginger.† If there was any other ingredient, it didn't jump out at us.† We each took a bite, chewed, and said, hmm, that's not bad.† Ten seconds passed.† We all lunged at the bowl like wolves and ate until it was gone.† Now it can be told:† one of the best things I've ever eaten was celery salad.
Sandwich Planet
Menu: page 1 page 2 page 3 page 4
9th Ave. at 40th St.
Fresco Tortilla
Menu: page 1 page 2 page 3 page 4
9th Ave. at 40th St., plus many other locations
I tried to go to Sandwich Planet, the new and even smaller outfit from the creators of Island Burgers and Shakes, on Sunday, but they're closed Sundays.† Luckily, next door is a branch of Fresco Tortilla, the Chinese-owned Mexican chain. See, I lied earlier. Sometimes a Chinese family will open a Mexican restaurant.

There are two gimmicks at Fresco:† low prices and the tortilla machine.† (In New York, a Chinese-owned Mexican chain isn't a gimmick.)† The operator slings a ball of dough into the top of the machine and it is flattened and ejected out onto a hot griddle.† A minute on each side and the tortilla is done, ready to be filled with any combination of beans, cheese, chicken or beef, chorizo, guacamole, and so on.† My favorite is the chicken fajita ($2), crusty grilled chicken sliced to order with onions and peppers.† The cashier hands you a bottle or a plastic dish of hot sauce, and away you go.† The flour tortillas aren't much like homemade Mexican ones, but as with bagels, any fresh tortilla is better than any stale one.† While I was eating, a group of jazz enthusiasts came in and talked jazz while marveling at the prices.

Sandwich Planet itself trades in the shakes for additional sandwiches, four menu pages of them, from fluffernutter to air-dried beef and truffle oil.† Some have been christened with random Italian names and others left alone, and like its brother Island Burgers, Sandwich Planet devotes a page of the menu to burgers (which, if they take after Island's, are great if you can convince them not to overcook them) and chicken churascos, chicken breast sandwiches.† Why they call them this, I don't know, since "churrasco" (with two R's) is Spanish for steak.

I can't give Sandwich Planet a full review since all I had was a Mikie (bresaola, mesclun, roasted peppers, and fontina) on a thin bread that was incongruously and with no sense of gender agreement called pizza bianco.† The bread was as tasty as promised, but the proportions were clumsy and the bresaola was sliced too thick.† Iíll try another cold sandwich next time Iím in town, but this trip I wish Iíd had a churasco.
Hampton Chutney
Menu
68 Prince St at Crosby
(212) 226-9996
11am-8am, 7 days
Neither the Hamptons nor chutney have ever held any interest for me, but I've had a soft spot for masala dosa ever since an Indian friend ordered us one at a small restaurant east of Seattle.† The dosa is a thin sourdough rice flour pancake wrapped around spicy mashed potato, like a potato burrito from south India.† Hampton Chutney asks the obvious question, "What else could we wrap in such a pancake?"† The answers include portobello, spinach, balsamic roasted onions, arugula, chicken, and tuna (not all at once), served with your choice of chutney.† The dosa pancake is admirably prepared, lacy and crisp, and the filling (mine was chicken, arugula, peppers, and onions, with a side of peanut chutney) is flavorful if not particularly spicy.

Like a Cornish pasty, a real masala dosa must overhang the plate, which was a challenge here, since they use deli trays instead of plates.† And the dosa does look huge, but they're not very filling.† For $5 I would be raving about this place, but the actual price is $9-$11.† Worth a trip, once.
Shopping, Tea, and Farewell
A corridor in the east side of Grand Central Terminal has grown a market arcade complete with everything you might need: produce, meat, cheese, fish, poultry, and bakery counters, and†a giant sculpture that looks like it was constructed from seven dozen moose antlers.†None of these counters alone is the best in the city, but the sum is wonderful and if I commuted through Grand Central I would shop here every day.† Downstairs in the center of the food court is the Caviarteria, which I mention only because I've come up with some other good names for caviar joints:
Long John Sturgeon's Caviarrr
Sevruga Yourself
The Sturgeon General
Ayatollah This Iranian Caviar Was Good
Taco Beluga
At one corner of the food court stands Custard Beach, which sells numerous flavors of an ice cream variant called frozen custard. The best flavor was crème brûlée (which was basically caramel, but who's complaining?). Frozen custard, which contains egg, is kind of halfway between soft serve and hard ice cream, with different flavors falling at different places along the continuum. My friend David, who works near the train station, will appear for custard at literally a minute's notice, and I can't blame him.
St. Famous Bakery, once maker of the best brownies in town, seems to have relocated to Restaurant Row and grown a wine and cheese selection and a dining room, but its hours have shrunk: it was closed on Monday in the middle of the afternoon. Against my better judgment, I followed Jeffrey Steingarten and Ed Levine's suggestion and bought a $3 brownie at E.A.T.† It wasn't very good, but at least it didn't cost as much as their $25 loaf of bread or the $16 caprese sandwich.
I had such high hopes for Tealuxe, whose convivial and copper-hued atmosphere I enjoyed so much in Harvard Square, but the branch they've opened next to Ollie's at 116th and Broadway makes a key error.† Most of the room is dedicated to table service.† If Tealuxe wants to be the Starbucks of tea, and they deserve to, at some point they'll have to notice that Starbucks doesn't have waiters.† If you come, avoid the teas of the day, whose freshness and temperature vary, and choose a pot of one of their premium selections, kept in antiqued file drawers.