If you enjoy this site, please check out mamster's new weblog, Roots and Grubs.
It Didn't Go Bankrupt Over Dinner
by Adam Cadre
October 22, 2000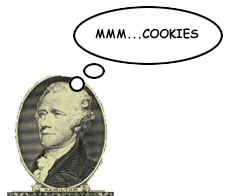 I actually can read. But as I looked at the map before me and plotted out the road trip to come, I found myself afflicted with a curious sort of dyslexia. My eyes saw the word B-E-R-K-E-L-E-Y, but my brain processed a different eight letters entirely: Z-A-C-H-A-R-Y-S. The "S.C." a bit further down stood for "Santa Cruz," of course, but to me, they meant nothing but "Saturn Cafe." The first consideration in planning a road trip is the eateries. Everything else—scenery, attractions, friends—must wait until the eateries are pencilled in.
This particular road trip was to Orange County and back. OC is not exactly a culinary mecca, but it can easily keep one happily fed for a few days. Royal Orchid Thai in Orange is far and away the best Thai I've ever had—and yes, I've dined at Seattle's much-vaunted Siam on Broadway. Rockwell in Villa Park has a well-nigh-unbeatable breakfast menu, including a spinach and Swiss cheese omelette with Hollandaise sauce that's like a cholesterol spike right through the brain's pleasure center. And then there was last Tuesday.
I wasn't trying to eat cheaply. I wasn't trying to eat light. It was my last full day in town, and I went where I wanted and ate till I was full. Only in retrospect did I realize what I'd done.
I'd splurged on food for an entire day, and spent less than ten dollars.
A ten-spot. A sawbuck. A portrait of Alexander Hamilton. $10 had been more than enough to cover Tuesday's gastronomic highlight film.
Here's how.
There's a bumper sticker that says "Life is short—eat dessert first"; eating dessert first is not recommended here, but buying it is. Campitelli's Cookies in Anaheim Hills is, first and foremost, a dessert shop, but like many dessert shops (see Sweet Addition in Issaquah) it closes long before it's time for dessert: 6pm M-F, 5pm Sat, so you have to buy during business hours and summon up the willpower not to eat your cookies on the spot. This can be ludicrously difficult, given how good Campitelli's cookies are. No, they don't redefine one's ideas about what a cookie can be the way that Zachary's does for pizza, but they are most definitely superlative cookies in all respects: rich, sweet, buttery, and that's just the dough. Throw macadamia nuts or two-tone chocolate chips or a dollop of peanut butter into the mix and you're basically talking about heaven in cookie form. Get two. You'll pay $1.70, tax included.
But don't eat them yet.
First, hop on the freeway and head to City Mex in Signal Hill, part of the regional mini-chain known as Pachanga. Pachanga/City Mex is the best taqueria I've ever been to. The standard burritos are as close to ideal as one could reasonably expect; the nachos are even better, starting with good chips top-browned with jack cheese and black beans, then topped with extremely generous scoops of guacamole and pico de gallo—no choosing which tiny bit of topping to moisten one's mealy chip with at Pachanga. But perhaps best of all is the supremely flavorful seven-veggie blend, which can be incorporated into a quesadilla or served in a juicy pleasure bomb of a burrito. This will run you $4.25 plus tax, and while you're waiting for it, head over to the free salsa bar and try the roasted salsas. There's a fiery salsa Santa Maria for those who get into the heat, but I like the purplish black salsa negrita, sweet, smoky and smooth. I don't bother to apply it to the burritos: I get a little cup of salsa negrita and drink it straight, then refill as needed till my number is called. Those who prefer a more traditional beverage can sample the excellent lemonade, but foregoing the lemonade will leave you with $3.73 left to spend on dinner.
So after polishing off a delicious and extremely filling burrito and waiting several hours to get hungry again, the last stop is at Papa Hassan's in Orange. They offer a delicious lentil soup with rice that just flat-out sings, but the dish to get at this juncture is the foul madammas—that's pronounced "fool", and it's anything but foul. This dish is a concoction of fava beans, onions, tomatoes, parsley, and lemon juice. Wait, no. Correction. It's a concoction of fava beans, onions, tomatoes, parsley, and LEMON JUICE. The fava beans lend the dish body and texture and the other ingredients make key contributions to the flavor, but the lemon is the star of the show. This can be eaten with a spoon, but I prefer to simply use the warm, scrumptious pita halves served with it as a scooping mechanism. Though listed as an appetizer, this makes for a fine meal by itself, and at $3.25 plus tax, you'll still have 23 cents left. Feel free to annoy those around you by jingling your change as you tuck into your cookies.
Alexander Hamilton would be proud.

Adam Cadre is the author of Ready, Okay!, a novel about living, dining, and dying in Orange County.