If you enjoy this site, please check out mamster's new weblog, Roots and Grubs.
The Prince of Pasta
January 22, 2001
by Matthew Amster-Burton
NOTE: This was originally going to be a seven-part series on my favorite penne rigate dishes, but I set it aside for over a year because I didn't actually have seven recipes worth printing. There are two genuinely brilliant ways to serve this pasta shape; one appears in my Xmas Pastas essay, and the other is below. Enjoy.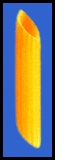 There is pasta, and then there is penne rigate.
Sure, I love linguine's sexy twirl and conchiglie's ability to act like a hundred little bowls of sauce. Fusilli bucati, all squiggly and hollow like a phone cord with its wire removed, has its place in my pasta pantheon. But penne rigate is something else. Like macaroni, it hides a secret burst of sauce and flavor inside. Like linguine, it's got chew. And like all ridged pasta, it is streaked with grooves that hold just the right amount of sauce on its outer surface.
Do not confuse penne rigate with non-ridged penne lisce. Sauce slides right off these smooth quills. Ever had a baked ziti where you plucked apparently unsauced ziti from within the maelstrom? Then you know what rigati are for.
There's a key question to treat before you start cooking pots of penne rigate: whose penne? You can't very well make your own: extruded pasta shapes are best made by anonymous, churning factory machines and gifted pasta artisans. One such genius is chef Mark Strausman, who serves a genre-defining rigatoni with meat sauce at Campagna, in the Flatiron District (actually, I doubt he makes the pasta himself, but it's great, and the recipe is in his book). Unless my pasta and I are in such hands, however, I prefer factory-made pasta--and so do most Italians, who eat even more of it than Americans do.
These are the three penne rigate you should consider:
Trader Joe's (Italy): It's not only the best, it's dirt-cheap at 69 cents a pound. Unfortunately, Joe's only has stores in a smattering of states on the coasts. If you don't live within shopping distance of Trader Joe's, well, I'm sorry. You can't get their chocolate-covered caramels, the best damn candy in the world, but you can make perfectly good penne rigate using either of the two national brands below.
De Cecco (Italy): This is a reliable, firm and chewy pasta. On the east coast, it's my top choice. You can get it at Fairway in Manhattan for about a dollar. Here in Seattle, however, I've seen it going for as much as $3 and never much less than $2. So go with...
Ronzoni (USA): Cook's Illustrated gushed about this American brand in their blind tasting, and I can't deny that it's delicious, if not quite as firm as the others. The box will say mostaccioli rigati. The pasta pieces are thin and vary in length. How quaint.
Even though it's been done to death, I was going to write yet another treatise on how to cook dried pasta. But thanks to the magic of the web, it's not plagiarism if I just send you to Barilla's guide. I would add only: never drain pasta without tasting it. I've cooked hundreds of pots of pasta and still taste each batch several times for texture.
Penne alla Vodka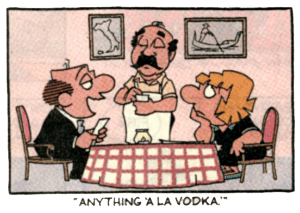 If penne rigate is the Bugatti of pasta, here is its autostrada. Penne alla vodka was popularized at the restaurant Dante in Bologna, Italy. (One view holds that Bologna, its good name defamed by the likes of Oscar Mayer, is the gastronomic capital of the world, the epicenter from which shockwaves of culinary goodness emanate, and that view is mine. Not mine alone, however.) I first encountered this marvel at Pepe Verde, a tiny Italian take-out place on Hudson Street in Greenwich Village. While we looked over the display of freshly-made focaccias, the amiable Italian proprietor scribbled the day's pastas and sandwiches on a chalkboard. I had heard of penne alla vodka before, but knew nothing about it other than the obvious, so I went for it.
Pepe serves pasta right: large quantities in big white bowls. The penne alla vodka arrived clabbered in a pink sauce with bits of meat. After one mouthful, I was a changed man. The vodka had added an evocative depth of flavor that the even the triumvirate of tomato, cream, and bacon couldn't achieve without assistance. I devoured the bowl of pasta and decided on the spot that even though we lived in a New York apartment with a kitchen the size of a gnat, I would make a batch at home. I needn't have worried. Penne alla vodka is a cinch to make, and the rewards are incalculable. You don't need a lot of space, time, or money, and yet you end up with a silky and filling meal for four.
Whose brothers?
What the hell? Am I really recommending you profane this sacred algorithm with a jar of commercial red sauce?
Certainly, because Five Brothers is no ordinary jar of sauce. It's better than any tomato sauce I've made at home with canned tomatoes, and why shouldn't it be? The Brothers (who are actually fictional siblings in the employ of the Lipton corporation) make their sauce from good fresh tomatoes and other ingredients. No preservatives, mono- or diglycerides, or other oddities, although the jar does sport the unsavory slogan "Five Brothers, One Passion," which I'm certain is illegal in Georgia.
Be sure to look for the Marinara with Burgundy Wine variety--the others are palatable but no better than Classico or other pretenders.
I'm not acting as a paid shill for Lipton here, but there's a decent cookbook by a guy who is acting as a paid shill for Lipton and uses Five Brothers sauces in his recipes.
Penne alla Vodka
Serves 4
3/4 lb penne rigate
3 tbsp butter
1/4 lb pancetta, sliced thin and chopped
1/3 cup vodka
1 26-oz jar Five Brothers Marinara with Burgundy Wine sauce
1/2 cup heavy cream
salt and pepper
Parmigiano-Reggiano
Started a pot of salted water boiling. In a 12" skillet, melt the butter over medium heat. When it foams, add the pancetta and saute for about six minutes or until slightly crisp. Raise the heat to medium-high and add the vodka. Cook for three minutes, stirring regularly. Add the tomato sauce and cream to the skillet and put the pasta into the pot. Simmer the sauce, stirring occasionally and adding salt and pepper to taste, until the pasta is just barely al dente. Drain the pasta and add it to the skillet. Stir it together with the sauce for a minute or two, transfer to a hot bowl and serve with freshly-grated Parmigiano. Wow.
Pancetta is unsmoked Italian-style bacon; it can be difficult to find, but it's available presliced at QFC. In New York, I bought it from the austere but wholesome Oppenheimer Meats at Broadway and 97th, and at Faicco's Pork Store at Bleecker and Cornelia.
We recently had some non-pork-oriented friends over and I made this recipe with diced white mushrooms instead of pancetta and conchiglie rigate instead of penne. It was almost as good, and I think wild mushrooms (some fresh chanterelles, shiitakes, even porcini) would have inflated our sentiment from mere elation to bliss.
The only thing wrong with this recipe is that once you've served it to your guests and thereby cemented your reputation as a kitchen wizard, you'll have to come up with something outrageous to top it next time you have the lucky folks over. Then again, who would complain about being served penne alla vodka a second time?