If you enjoy this site, please check out mamster's new weblog, Roots and Grubs.
Hell's Kitchen: Devil Dogs
by André Schlesinger
December 25, 2001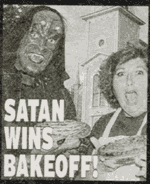 mamster's note: When Reverend André Schlesinger, the Satanic Chef, asked me to print another of his recipes, I leapt at the chance, kind of the same way Billy Crystal leapt at the chance to become Robert DeNiro's psychiatrist in Analyze This. I procrastinated for a while, then suddenly realized that Christmas Day would be the perfect time to post this. I love the fact that his recipe calls for kosher hot dogs.
This was the first recipe and "Hell's Kitchen" segment I filmed for my public access television show "Satanic Mass," which airs in Manhattan on Saturday late nights at 1:00am (Sundays). I decided to do the Chefinblack thing early on and this segment showed up in one of my first few episodes. I went to a local culinary supply store and got myself one of those classic soft cotton chef's hats which I dyed black, a black apron, and black oven mitts. When purchasing utensils and props for the show I usually stick to a black motif.
Not so much a recipe as it is a preparation, the following instructions are for the main course, Devil Dogs, as well as some side dishes, German Fries and sauerkraut. This fun food preparation is fairly easy, not too time consuming, inexpensive, and perfect for informal get-togethers, Monday Night Football parties, kids, etc.
Devil Dogs (no, not that kind of dog!) served with German Fries and Sauerkraut
1 pkg. Hebrew National Kosher All Beef Franks (substitute with any all-beef frankfurter)
1 lb pkg. of bacon (thick sliced is preferable)
Hoagie/hero/grinder rolls
5 pounds Idaho potatoes
1 lb pkg. sauerkraut (canned or in plastic bag)
American cheese (deli sliced preferred)
2 large onions
Sugar
Since this will take the longest cooking time I suggest that you start your German Fries first. Wash and peel potatoes, slice each in half and then slicing across into thin chips of about 1/8 of an inch wide. Add a couple of strips of bacon to a heavy frying pan and cook until very crisp, remove bacon from grease and set aside. Now turn the heat on your frying pan down to low and add sliced potatoes allowing them to cook in the bacon grease, cover and stir counter clockwise every 20 minutes or so as your German Fries reach a golden brown. Hint: use a wooden spoon for this as metal tends to break up the potatoes. About a half hour before you are ready to serve your German Fries, add a diced onion and continue frying until done.
Wrap franks around bacon from end to end (those using thick sliced bacon may only require one slice but if thin sliced bacon is used you will have to use two) wrapping each piece starting at opposite ends of the frank and pinning the bacon to the frank with a few toothpicks at each end to hold the bacon in place (okay, wise guy, try it without the toothpicks and see where that gets you!). Repeat procedure until you have completed as many franks as you plan on serving (ingredients listed should cover 6-8 Devil Dogs). Place bacon-wrapped franks in a large frying pan and fry uncovered, turning occasionally to allow those dogs to brown on all sides while pushing toothpicks through as needed. After your Devil Dogs have cooked sufficiently you may add a diced onion to the pan, allowing it to brown in the bacon fat. Hint: add a teaspoon or two of sugar to the frying onions for a crisper and sweeter caramel style.
As for the sauerkraut, drain the liquid off that the sauerkraut is packaged in and place it in a sauce pan. Add about 1 cup of cold water, a tablespoon of sugar, and those bacon strips you set aside while making your German Fries. Cover and let simmer until hot but not much longer as the sauerkraut should be firm and slightly crunchy.
At this point your cooking will be completed and you are ready to put everything together. Place two slices of American cheese on each of your rolls which you may wish lightly toasted. I originally chose hoagie rolls for their softness and extra size although Italian style submarine or grinder rolls work just as well where your average hot dog bun just won't cut it. While still sizzling pocket your Devil Dogs in your rolls (remember to remove toothpicks!) and top with fried onions, mustard, relish, etc. Of course a small amount of sauerkraut can make a good topping as well but I prefer mine as a side dish. And last but not least add a large helping of crispy golden brown German Fries, salt and pepper to taste, and break out a bottle of ketchup. Definitely a lowbrow but hearty treat. I recommend that you wash all this down with a good old domestic beer!
Until next time (another recipe, more trivia, maybe some video stills from the show...), if you can't stand the heat get the hell out of the kitchen! This has been the Chefinblack for Hell's Kitchen.